Catalogs

>

Titan For Rail
Catalog excerpts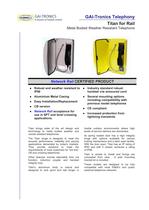 GAI-Tronics Telephony Titan for Rail Metal Bodied Weather Resistant Telephone Network Rail CERTIFIED PRODUCT Robust and weather resistant to IP66 Industry standard robust handset c/w armoured cord Aluminium Metal Casing Several mounting options including compatibility with previous model telephones Easy Installation/Replacement CB version Network Rail acceptance for use in SPT and level crossing applications. Titan brings state of the art design and technology to metal bodied weather and vandal resistant telephones. The Titan range is designed to meet the acoustic performance, reliability and varying applications demanded by today's markets. They provide solutions to meet the requirements of most customers for 'hot line', CB and crossing telephones. Other features include selectable time out function, inductive coupler and handset integrity loop. Titan's aluminium body is robust and designed to look good and last longer in CE compliant Increased protection from lightning transients hostile outdoor environments where high levels of service delivery are demanded. Its spring loaded door has a high integrity hinge with options available for various locking mechanisms and a latch open facility. With the door open, Titan has an IP rating of IP65 and with it closed, achieves a rating of IP66. Titan is simple to install and fixings are concealed from view. A pole mounting bracket kit is included. These models are designed to be fully compatible with most PABX's and public switched telephone networks.
Open the catalog to page 1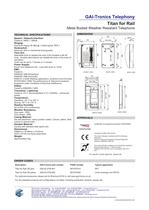 GAI-Tronics Telephony Titan for Rail Metal Bodied Weather Resistant Telephone DIMENSIONS TECHNICAL SPECIFICATIONS Speech / Network Interface: Tested to TBR21 / TBR38 Ringing: Dual tone ringing, 80 dBa @ 1 metre typical. REN 1. Hookswitch: Electronic with no mechanical moving parts. Time Out: Selectable timer to release line even if the handset is left off hook. Handset alert feature can disable the timer in the event of vandalism. Timer can be set to 7 minutes or 3 minutes. Power Supply: Drawn from telephone line. Loop start down to 15mA. EMC: Tested to: EN55022:1998 (Emissions)...
Open the catalog to page 2
All GAI-Tronics a division of Hubbell Ltd catalogs and technical brochures

Compare up to 10 products