Catalogs

>

On-board Communication
Catalog excerpts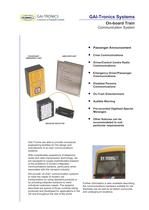 GAI-Tronics Systems On-board Train Communication System • PASSENGER EMERGENCY UNIT AMPLIFIER UNIT Passenger Announcement • Crew Communications • • • Driver/Control Centre Radio Communications Emergency Driver/Passenger Communications Disabled Persons Communications • On-Train Entertainment • Audible Warning • • MESSAGE SELECTOR Pre-recorded Digitised Special Messages Other features can be accommodated to suit particular requirements GAI-Tronics are able to provide conceptual engineering facilities for the design and manufacture of on-train communications systems. With considerable experience of telephony, audio and radio transmission technology, we are equipped to supply sophisticated answers to the problems of modern integrated communications systems, particularly when associated with the transport industry. We provide 'on-train' communication systems to meet the needs of modern rail transportation by using standard products or by providing bespoke solutions to meet individual customers needs. The systems described are typical of those currently being produced and developed for applications in the UK and throughout the rest of the world. Further information is also available describing the communications hardware suitable for rail trackside use as well as at station concourse and underground locations.
Open the catalog to page 1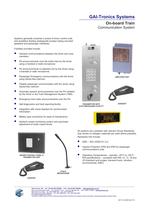 GAI-Tronics Systems On-board Train Communication System Systems generally comprise a series of driver control units and amplifiers feeding strategically located ceiling mounted speakers and passenger interfaces. Facilities provided include: • • • • • • • • • • • Handset communications between the driver and crew members PA announcements over the entire train by the driver using a handset or stalk microphone PA announcements to selected unit by the driver using a handset or stalk microphone Passenger Emergency communications with the driver using hands-free intercom AMPLIFIER UNIT Disable...
Open the catalog to page 2
All GAI-Tronics a division of Hubbell Ltd catalogs and technical brochures

Compare up to 10 products