Catalogs

>

Implementing a Help Point System using GAI-Tronics VoIP products
Catalog excerpts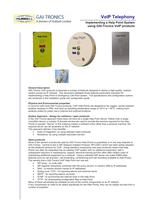 VoIP Telephony Implementing a Help Point System using GAI-Tronics VoIP products General Description GAI-Tronics VoIP products incorporate a number of features designed to deliver a high-quality, resilient system across an IP network. This document highlights those features particularly important for implementing a Help Point or Emergency Call Point system. Full specifications and configuration options are contained in the installation guide and configuration guide. Physical and Environmental properties In common with most GAI-Tronics products, VoIP Help Points are designed to be rugged, vandal resistant, weather resistant to IP65, and have an operating temperature range of -20°C to + 60°C, making them perfectly suited for public use in internal and external locations. System Approach - design for resilience / open protocols In the GAI-Tronics approach there does not have be a single Help Point Server. Rather than a single monolithic device, a number of discrete servers are used to provide the services required for the Help Points to operate. "Server" in this instance implies a software entity rather than a physical machine; the required server can be anywhere on the IP network This approach delivers 2 key benefits: • Ease of integration, by using standard open protocols. • Resilience, by using multiple redundant servers Open protocols None of the servers of protocols used by GAI-Tronics Help Points is proprietary or in any way bespoke to GAI-Tronics. Central to this is SIP (Session Initiation Protocol, RFC3261) which has been widely adopted as the preferred protocol for VoIP. Using standard components and open protocols means that Help Points can often be integrated into an existing VoIP system with no additional equipment, with a subsequent reduction in maintenance, support, technical training and the other often hidden costs of maintaining additional equipment on a network. Using a standard SIP server can make PABX-style features such as call diversion, call forwarding, conferencing and call recording available to Help Points. The servers that a GAI-Tronics VoIP Help Point can use are: • SIP proxy - to route calls • SIP registrar (frequently combined with the proxy server)- to resolve URls to IP addresses • DNS - to resolve domain names to IP addresses • Syslog (over TCP) - for reporting alarms and external inputs • SMTP - for reporting alarms via email • STNP - to synchronise the internal clock in the Help Point • TFTP - for downloading configuration files to Help Point Many of these will already be available as part of the normal components on an IP network. If any components do need to be added specifically for the Help Points, they can be readily sourced from a number of suppliers.
Open the catalog to page 1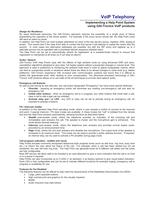 VoIP Telephony Implementing a Help Point System using GAI-Tronics VoIP products Design for Resilience By using distributed resources, the GAI-Tronics approach reduces the possibility of a single point of failure jeopardising the operation of the whole system. For example, if the proxy server should fail, the Help Point could still send an alarm by email. In addition, the Help Point can hold multiple addresses for each of the key servers (proxy, registrar, DNS, Syslog & email). This means that if the Help Point fails to contact the first server it will attempt to repeat the action with the...
Open the catalog to page 2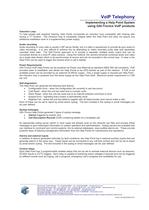 VoIP Telephony Implementing a Help Point System using GAI-Tronics VoIP products Induction Loop To help people with impaired hearing, Help Points incorporate an induction loop compatible with hearing aids having a "T" function. The induction loop is completely integral within the Help Point and does not require any additional installation work or a supplementary power supply. Audio recording Audio recording of voice calls is usually a SIP server facility, but it is often a requirement to provide lip-sync audio to video recordings. It is very difficult to achieve this by attempting to match...
Open the catalog to page 3
All GAI-Tronics a division of Hubbell Ltd catalogs and technical brochures

Compare up to 10 products