Catalogs

>

Illuminated Crossing Phone KETS
Catalog excerpts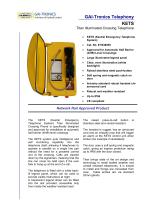 GAI-Tronics Telephony KETS Titan Illuminated Crossing Telephone KETS (Kestrel Emergency Telephone System) Approved for Automatic Half Barrier (AHB) Level Crossings Large illuminated legend panel Clear, even illumination (white backlight) Raised stainless steel push-button Soft spring and magnetic catch on door Industry standard robust handset c/w armoured cord Robust and weather resistant Network Rail Approved Product The KETS (Kestrel Emergency Telephone System) Titan Illuminated Crossing Phone is specifically designed and approved for installation at automatic half barrier (AHB) level crossings. The KETS system puts intelligence and self monitoring capability into the telephone itself, allowing 4 telephones to operate in parallel on a single line pair without the need for a powered control unit at the crossing. Calls are cleared down by the signalman, meaning that the line can never be held open if the user fails to hang up at the end of a call. The telephone is fitted with a white backlit legend panel, which can be used to provide visible instructions at night. A translucent legend sheet can be fitted into the slot provided, accessible only from inside the weather resistant seal. The raised press-to-call button stainless steel and vandal resistant. The handset is rugged, has an armoured cord and an integrity loop that will trigger an alarm at the KETS control unit when broken (for example if vandalised). The door uses a soft spring and magnetic catch, giving an ingress protection rating up to IP66 with the door closed. Titan brings state of the art design and technology to metal bodied weather and vandal resistant telephones. It is simple to install and fixings are concealed from view. Cable entries are via standard 20mm glands.
Open the catalog to page 1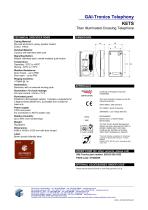 GAI-Tronics Telephony KETS Titan Illuminated Crossing Telephone TECHNICAL SPECIFICATIONS Casing Material: Die-cast aluminium, epoxy powder coated Colour: Yellow Handset Material: Cycoloy with stainless steel cord Signalling Button: Raised, stainless steel, vandal resistant push-button Temperature: Operating: -20ºC to +60ºC Storing: -40ºC to +70ºC Weather Resistance: Door closed – up to IP66 Door open – up to IP65 Ringing loudness: >75dBA @ 1m Hookswitch: Electronic with no external moving parts Illumination / On-hook leakage: On hook current: 3.5mA ± 10 % Illuminated panel: 83x90mm LED...
Open the catalog to page 2
All GAI-Tronics a division of Hubbell Ltd catalogs and technical brochures

Compare up to 10 products