Catalogs

>

Help Point PHP400
Catalog excerpts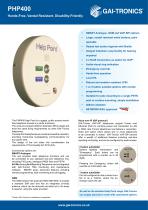 PHP400 Hands-Free, Vandal Resistant, Disability-Friendly SMART Analogue, GSM and VoIP-SIP options Large, vandal resistant metal buttons, palm operable Raised text button legends with Braille Integral Induction Loop facility for hearing impaired 2 x RJ45 Connectors as option for VoIP* Audio-visual ring indication Emergency override Hands-free operation Robust and weather resistant: IP55 1 or 2 button autodial options with remote programming Suitable for pole mounting to a single PSTN post or surface mounting, simple installation The PHP400 Help Point is a rugged, public access handsfree telephone housed in a white enclosure. The units are compact (400mm diameter, 88mm deep) and have the same fixing requirements as other GAI-Tronics telephones. The Help Point telephones are vandal and weather resistant, providing hands-free loudspeaking communications for any public area. The design of the unit takes into consideration the requirements of The Equality Act 2010 (EA). Connectivity options are: SMART Analogue The unit provides basic telephone functions and can be connected to any standard two-wire telephone line, including FXS ports, analogue PABX lines and PSTN. Self Monitoring And Reporting Telephone can be integrated with GAI-Tronics' TMA monitoring and maintenance software. SMART gives advanced features including remote programming, fault monitoring and call logging. GSM The GSM version has dual band 900/1800 MHz. It accepts a standard SIM card and has an integrated on-body antenna, which can be removed and sited up to 3m away if required, using the cable provided. *Contact GAI-Tronics for clarification of application 400mm diameter NETWORK RAIL approved Voice over IP (SIP protocol) GAI-Tronics VoIP-SIP telephones support Power over Ethernet (PoE) to combine power and connection to LAN or WAN. GAI-Tronics telephones now feature a secondary RJ45 port option which allows two or more telephones to be connected in series*. GAI-Tronics VoIP-SIP phones offer a wealth of additional features including real-time reporting via Syslog, and can be configured by web browser. 2 button autodialler Buttons labelled "Information" and "Emergency". Each button can be programmed with a number up to 24 digits. Pressing the Emergency button will override an information call. 1 button autodialler Can be configured to dial a stored number or as a 'hotline', where the exchange routes the call. As well as the standard Help Point range, GAI-Tronics can supply specials to order with customised options.
Open the catalog to page 1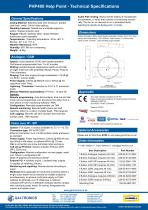 PHP400 Help Point - Technical Specifications General Specifications Casing Material: Stainless steel front enclosure, powder coat finish -white. Call for other options. Disability Features: Raised text and Braille legend to button; Integral induction loop Keypad: Raised, stainless steel, vandal resistant pushbutton (palm operable) Temperatures: Operating temperature: -20 to +60° C Storing: -40° C to +70° C Weather Resistance: IP55 Humidity: 95% RH non condensing Weight: ~6.5kg Audio Path Testing: Allows remote testing of microphones and speakers, to verify that a phone is functioning...
Open the catalog to page 2
All GAI-Tronics a division of Hubbell Ltd catalogs and technical brochures

Compare up to 10 products