Catalogs

>

GSM (GSM-R) Commander
Catalog excerpts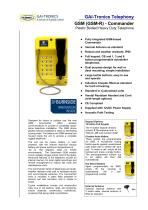 GAI-Tronics Telephony GSM (GSM-R) - Commander Plastic Bodied Heavy Duty Telephone Dual purpose design for wall or desk mounting, simple installation Large tactile buttons, easy to see and operate Inductive Coupler fitted as standard for hard of hearing Standard or Customised units Vandal Resistant Handset and Cord (with length options) Supplied with 12vDC Power Supply Typical installations include civil construction sites, bus or rail stations, retail, and temporary events (festivals, construction, exhibitions), anywhere that laying cable is prohibitive. Full keypad, CB and 1, 3 and 6 button programmable autodialler telephones The Commander family of telephones are tough, weather resistant units built to withstand abuse and environmental extremes. The Commander body is moulded in glass filled polyester to prevent rust and corrosion, and is simple to install. Robust and weather resistant: IP65 The unit can be mains, battery, or solar powered, with the internal lead-acid backup battery and phone working in temperatures of -20 to +60 degrees, ideal for hostile environments. The Quad-band GSM module covers wireless ranges across most of the globe. Advanced features of the telephone include an internal memory for local digital recordings and remote management to reduce site visits and maintenance costs. Internal Antenna as standard Designed for indoor or outdoor use, the new GSM Commander offers wireless communications to provide a completely standalone telephone installation. The GSM phone greatly reduces installations costs by eliminating running wires. The battery and GSM terminal are housed inside the unit to provide a complete rugged telephone. Fully Integrated GSM-based Commander Acoustic Path Testing Keypad Options: 15 button Full Keypad The 15 button keypad versions include: S 'Microphone mute' or 'Silence', LR 'Last number redial' 6 button Auto diallers These models are programmable via SMS. A microphone muting facility guards against unauthorised calls made with a remote MF tone pad. To make a call, simply lift the handset and press a single button. The pre-programmed number (up to 24 digits) will then dial automatically. Hot Dial (0 Button) Again programmable via SMS, simply lift the handset to automatically call a preprogrammed number. External Antenna Optional external antenna with 3 metre cable. Internal antenna is fitted as standard.
Open the catalog to page 1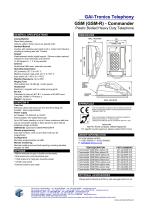 GAI-Tronics Telephony GSM (GSM-R) - Commander Plastic Bodied Heavy Duty Telephone GENERAL SPECIFICATIONS Casing Material Glass filled polyester. Colours: yellow. Other colours by special order Handset Material Cycoloy with stainless steel spiral cord or curled cord Inductive coupling to hearing aids with T-switch Keypad Weathersealed tactile digital keypad. Silicone rubber material, resistant to most chemicals and solvents 15 full keypad. 0, 1, 3, 6 key autodial Antenna Quad-band SMA male, internally mounted Operating temperature (AC powered) -20° C to +60° C (Battery powered, lead-acid)...
Open the catalog to page 2
All GAI-Tronics a division of Hubbell Ltd catalogs and technical brochures

Compare up to 10 products