Catalogs

>

Ex Beacons, 21 Joule
Catalog excerpts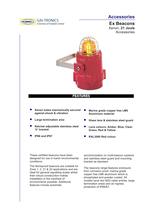 Accessories Ex Beacons Xenon, 21 Joule Accessories • • • • Xenon tubes mechanically secured against shock & vibration Large termination area Ratchet adjustable stainless steel 'U' bracket IP66 and IP67 These certified beacons have been designed for use in harsh environmental conditions. The flameproof beacons are suitable for Zone 1, 2, 21 & 22 applications and are ideal for general signalling duties whilst their robust construction makes installation in the harshest of environments possible. Additional features include automatic • • • • Marine grade copper free LM6 Aluminium material Glass lens & stainless steel guard Lens colours- Amber, Blue, Clear, Green, Red & Yellow RAL3000 Red colour synchronization on multi-beacon systems and stainless steel guard and mounting bracket as standard. The beacons range features enclosure from corrosion proof, marine grade copper free LM6 aluminium which is phosphated and powder coated. All models have two M20 cable entries, large termination areas and an ingress protection of IP66/67.
Open the catalog to page 1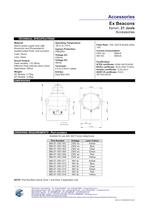 Accessories Ex Beacons Xenon, 21 Joule Accessories TECHNICAL SPECIFICATIONS Material: Marine grade copper free LM6 Aluminium and Phosphated & powdercoated finish- anti-corrosion Tube: Xenon Lens: Glass Sound Output: Peak candela: 110,780cd Effective Peak Intensity (lens colour dependant): 485cd Weight: AC Models: 2.75kg DC Models: 2.45kg Operating Temperature: -50°C to +70°C Ingress Protection: IP66/IP67 Voltage AC: 230Vac Voltage DC: 48Vdc Terminals: 0.5 to 4.0mm² cables Entries: Dual M20 ISO Flash Rate: 1HZ, 2HZ & double strike 1HZ Current Consumption: 230V AC 280mA 48V DC 600mA...
Open the catalog to page 2
All GAI-Tronics a division of Hubbell Ltd catalogs and technical brochures

Compare up to 10 products