Catalogs

>

Emergency Roadside Telephone: Type 354 (ERT)
Catalog excerpts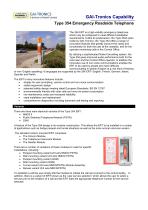 GAI-Tronics Capability Type 354 Emergency Roadside Telephone The 354 ERT is a high-visibility emergency telephone, which may be configured to meet different installation requirements. Unlike its predecessor, the Type 352A (also made by GAI-Tronics), the Type 354 offers a range of innovative features that greatly improve the clarity and functionality for both the user at the roadside, and for the operator monitoring calls in the Control Office. By utilizing a sophisticated Noise-Cancelling system, the Type 354 gives improved audio performance both for the road user and the Control Office operator. In addition the innovative use of non-voice communications enables the ERT to be used by people who have difficulty communicating in spoken English (e.g. the hard of hearing or non- English speaking). 6 languages are supported by the 354 ERT- English, French, German, Italian, Spanish and Welsh The ERT's many innovative features include: display for user prompting, volume control and non-voice communication stylish ergonomic design patented safety design meeting latest European Standards. BS EN 12767 environmentally friendly with solar cells and very low power consumption low maintenance costs and increased reliability rapid installation and replacement comprehensive diagnostics including automatic self testing and reporting Variants There are three main electrical variants of the Type 354 ERT: NMCS II Public Switched Telephone Network (PSTN) GSM A feature of the Type 354 design is its modular construction. This allows the ERT to be installed in a variety of applications such as bridge parapet and tunnel situations as well as the more normal columnar version. The standard column mounted ERT comprises: The Column Module The Telephone Instrument Module The Header Module There are a number of variations of these modules to cater for specific installations, including: Parapet mounting variant (2/4 wire NMCS/ PSTN) Wall mounting variant (2/4 wire NMCS/ PSTN) Parapet mounting variant (GSM) Wall mounting variant (GSM) Tunnel variant (2/4 wire NMCS/PSTN) Module Assembly Recess variant (2/4 wire NMCS/PSTN) To establish a call the user simply lifts the handset to initiate the call and connect to the control facility. In addition, there is a variant of ERT known as the 'user service selection' which allows the user to select a service prior to the initiation of a call and the ERT dials the appropriate telephone number for the service selected.
Open the catalog to page 1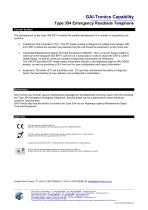 GAI-Tronics Capability Type 354 Emergency Roadside Telephone Control System The development of the Type 354 ERT included the parallel development of a number of supporting subsystems: Telephone Text Controller (TTC). This PC based system is designed to initiate and manage calls from ERT's where the operator has selected that the call should be switched to a text mode call. Centralised Maintenance Depot Terminal Equipment (CMDTE). This is a server based system to which all of the deployed 354 ERT's call into on a daily basis in order to report the ERT's current health status, as well as...
Open the catalog to page 2
All GAI-Tronics a division of Hubbell Ltd catalogs and technical brochures

Compare up to 10 products