Catalogs

>

Embedded Telephone Kit
Catalog excerpts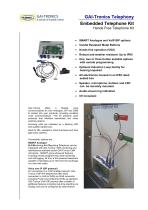 GAI-Tronics Telephony Embedded Telephone Kit Hands Free Telephone Kit • SMART Analogue and VoIP-SIP options • Vandal Resistant Metal Buttons • Hands free operation (VOX) • Robust and weather resistant: Up to IP65 • One, two or three button autodial options with remote programming • Optional Induction Loop facility for hearing impaired • All electronics housed in an IP65 rated sealed box • Speaker, microphone, buttons and LED can be remotely mounted • Audio-visual ring indication • CE Compliant GAI-Tronics offers a flexible voice communications kit over Analogue, SIP and GSM to embed into your products, providing excellent voice communications. This kit presents open protocols that interface seamlessly into many existing systems. Incoming calls are indicated by a flashing LED and audible warble tone. Ideal for lifts, escalators, ticket machines and door gate entry systems. Connectivity options are: SMART Analogue Self Monitoring And Reporting Telephone can be integrated with GAI-Tronics' TMA monitoring and maintenance software and/or GAI-Tronics CMA call centre. SMART gives advanced features including remote programming, fault monitoring and call logging, all from a line-powered telephone capable of operating up to 7km from the exchange on a two-wire cable. Voice over IP (SIP protocol) For connection to a VoIP enabled network, GAITronics VoIP-SIP telephones offer direct connection to LAN or WAN via RJ45 connector, including Power-Over-Ethernet (PoE) as standard. GAI-Tronics VoIP-SIP phones offer a wealth of additional features including real-time reporting via Syslog, and can be configured by web browser.
Open the catalog to page 1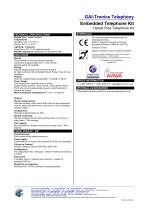 GAI-Tronics Telephony Embedded Telephone Kit Hands Free Telephone Kit TECHNICAL SPECIFICATIONS Keypad Metal, vandal resistant Temperatures Operating: -20° C to +60° C Storing: -40° C to +70° C Lightning / Transients Protection to ITU-T k.21 enhanced levels Weather Resistance: Sealed box for electronics IP65 This mark indicates compliance with the following directives: Radio & Telecommunications Terminal Equipment Directive 1999/5/EC (R&TTE) This mark indicates compliance for inductively coupling to Hearing Aids having a `T' switch position Tested to ETS 300-381 and in accordance with ITU-T...
Open the catalog to page 2
All GAI-Tronics a division of Hubbell Ltd catalogs and technical brochures

Compare up to 10 products