Catalogs

>

Drillers Digital Intercom System
Catalog excerpts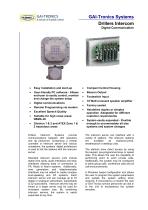 GAI-Tronics Systems Drillers Intercom Digital Communication Easy installation and start-up Compact Central Housing User-friendly PC software - Allows end-user to easily control, monitor and change the system setup Beacon Output Footswitch Input 18 Watt on-board speaker amplifier Factory sealed Handsfree duplex or simplex operation -Adaptable for different customer requirements System easily expanded - Flexible enough to accommodate all size systems and system changes Digital communications Remote Programming via modem Excellent Speech Quality Suitable for high noise areas; NEMA 4X Division 1 & 2 and ATEX Zone 1 & 2 hazardous areas Drillers Intercom Systems provide communications between drill operators and rig personnel. Comprising a central controller or intercom server and various outstations, the systems' digital architecture is used to link the stations with the intercom server. Standard intercom servers units include station line cards, audio interfaces and relay interfaces allowing ease of connection to PA, Radio or Alarm systems. Additionally, tone generators and telephone/radio interfaces may be added to create complex loud-speaking and PA systems. Each intercom server unit can manage up to 16 digital or analogue subscribers, expandable to 32 subscribers. Intercom servers may be linked or a larger server may be used for increased system size. By combining intercom servers, the system is easily expanded at any time. The intercom server can interface with a variety of stations. The intercom stations are available as explosion-proof, weatherproof or desktop units. The stations have direct access by using the keypad, pre-programmed keys or speed dials. This allows the user the capability of performing point to point private calls. Additionally, the system may be configured to allow group calls, conference calls and all call announcements. A Windows based configuration tool allows the user to program the system parameters and update the system setting when required. If connected to a modem the user or GAI-Tronics service personnel can dial in to the unit to troubleshoot the system remotely.
Open the catalog to page 1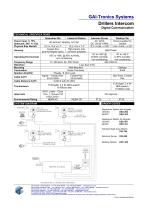 GAI-Tronics Systems Drillers Intercom Digital Communication TECHNICAL SPECIFICATIONS Hazardous Stn Power Input +/- 10% (Intercom: 24V +/- 5%) Physical Size WxHxD Housing Operating Environment Frequency Range Distortion Mounting Termination Speaker Amplifier Cable CAT5 Cable Distance CAT5 Transmission Approvals Environmental Rating SYSTEM DIAGRAM Industrial Station 90-240VAC 50/60Hz, 24 VDC 10.3 x 15.9 x 8.1" Copper-free aluminium/grey epoxy 13.2 x 9.4 x 7.4" High-impact, anticorrosive polyester Desktop Stn Power supplied by Central 2.59 x 9.45L x 2.28" 0C to +50C @ 0C to +50 C 20-80%...
Open the catalog to page 2
All GAI-Tronics a division of Hubbell Ltd catalogs and technical brochures

Compare up to 10 products