Catalogs

>

D600i Class D Audio Power Amplifier for PA/GA Systems
Catalog excerpts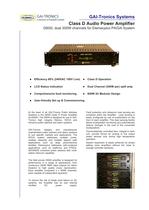 GAI-Tronics Systems Class D Audio Power Amplifier D600i, dual 300W channels for Elemecplus PA/GA System Efficiency 80% (240VAC 100V Line) Class D Operation LCD Status Indication Dual Channel (300W per) split amp Comprehensive fault monitoring 600W 2U Modular Design User-friendly Set up & Commissioning At the heart of all GAI-Tronics Public Address Systems is the D600i Class D Power Amplifier (2x300W). The D600i is designed for use in GAITronics high integrity Elemec, NOVA and Advance public address and alarm systems. GAI-Tronics designs and manufactures sophisticated public address and alarm systems to suit specific markets and applications. The NOVA system addresses multiple zones, multiple networks and multiple speech path applications such as large petrochemical facilities. Elemecplus addresses self-contained applications such as platforms and FPSOs. ADVANCE combines public address with multistation intercom capability. The field proven D600i amplifier is designed for performance in a range of applications, from continuous 300W RMS rated outputs for Alarm Systems to high quality music reproduction. Each amplifier comprises 2 x 300W channels, each capable of independent operation. To reduce the risk of single point failure on AC systems, the Amplifier has its own internal rectified DC power supply. Fault protection and ultrasonic load sensing are contained within the Amplifier. Load sensing is easily configured by use of pushbuttons on the front of each amplifier. This load sensing facility allows loudspeaker monitoring and automatically detects changes in the load of the connected loudspeakers. Thermostatically controlled fans, integral to each unit, provide forced air cooling to the output power devices only during high temperature operation. System expansion is easily achieved by simply adding more amplifiers without the need to change controller hardware.
Open the catalog to page 1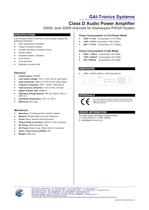 GAI-Tronics Systems Class D Audio Power Amplifier D600i, dual 300W channels for Elemecplus PA/GA System SPECIFICATIONS LCD Indicator Panel on the front of the amplifier displays the following information: • High Temperature Operation • Output Overload Condition • Amplifier Shutdown Protection Active • Power Healthy • Amplifier Enabled / Disabled • Fuse Failure • Zone Allocation • Bargraph at output level Power Consumption in Full Power Mode • 230V = 3.18A Consumption 731.0 Watts • 120V = 6.57A Consumption 788.0 Watts • 48V = 17.01A Consumption 817.0 Watts Power Consumption in Idle Mode •...
Open the catalog to page 2
All GAI-Tronics a division of Hubbell Ltd catalogs and technical brochures

Compare up to 10 products