Catalogs

>

Auteldac 5 - ATEX Approved Hazardous Area Telephone
Catalog excerpts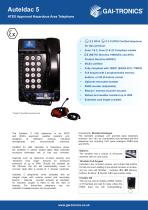 Auteldac 5 ATEX Approved Hazardous Area Telephone II 2 G ATEX Certified telephone Zone 1 & 2, Zone 21 & 22 Compliant models (R&TTE Directive 1999/5/EC and ATEX Product Directive 94/9/EC) IECEx certified Full keypad with 3 programmable memory buttons, or CB (0 button) variant Optional removable headset Beacon / external sounder actuator Robust and weather resistant up to IP66 Extended cord length available *Image for illustration purposes only The Auteldac 5 (A5) telephone is an ATEX and IECEx approved, weather resistant unit, designed to withstand arduous industrial atmospheres and environmental extremes. Certified for safe operation in hazardous areas, the Auteldac 5 carbon loaded glass filled polyester enclosure eliminates risk of rust and corrosion. Features such as 'electronic on-hook sensing' and 'electronic tone ringer' ensures an enclosure protection of up to IP66. Should the handset be left off-hook, the A5 will automatically revert to on-hook state after a period of 7 minutes (optional). Auteldac 5 telephones come complete with an integral ringer with volume control and secondary beacon / external sounder actuator as standard. An inductive coupler is fitted to aid the hard of hearing. For hands-free telephone use, the Auteldac 5 headset version can be provided. Connectivity: Standard Analogue The standard analogue unit provides basic telephone functions and can be connected to any standard two-wire telephone line, including FXS ports, analogue PABX lines and PSTN. Options: The handset has a choice of armoured stainless steel or curly cords. 18 button Full Keypad Included in the 18 button version, are 3 direct dial buttons for fast one touch dialling of pre-stored numbers or accessing low cost call facilities. Includes: M1- M3 Memory buttons, S 'Store', R 'Recall', LR 'Last number redial' 0 button CB This can be used to initiate a PABX 'hotline' or lift handset and wait for reply, where the PABX does the call routing/dialling.
Open the catalog to page 1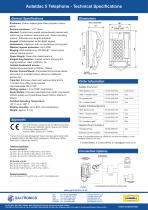 Auteldac 5 Telephone - Technical Specifications Dimensions General Specifications Enclosure: Carbon loaded glass-filled polyester (colour: black) Surface resistance: <109 ohms Handset: Conductively coated polycarbonate handset with coiled cord or stainless steel spiral cord. Noise cancelling options. Extended cord lengths available. Keypad: Weathersealed tactile digital keypad Hookswitch: Electronic with no mechanical moving parts Weather Ingress protection: Up to IP66 Ringing: Shrill warble tone >90 dBA @ 1 metre typical. Internal volume control. Power Supply: Drawn from telephone line...
Open the catalog to page 2
All GAI-Tronics a division of Hubbell Ltd catalogs and technical brochures

Compare up to 10 products