Catalogs

>

Chapter Gear Technology
Catalog excerpts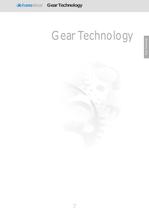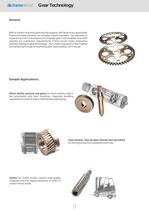 Gear Technology General With a modern machine park and the superior skill level of our associates Framo provides solutions for complex machining tasks. Our decades of experience in the manufacture of complete gear units enables us to fulfill expertly our customers' requirements. Framo covers every production process relating to gear technology - from machining before heat treating via hardening through to machining after heat treating - all in house. Sample Applications Rotor shafts, pinions and gears for drum motors used in the automotive and food industries, materials handling equipment...
Open the catalog to page 2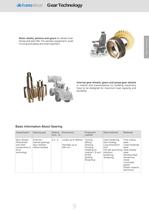 Gear Technology Gear Technology Rotor shafts, pinions and gears for wheel chair drives and stair lifts. For sanitary equipment, quiet running and safety are most important. Internal gear wheels, gears and pump gear wheels in motors and transmissions for building machinery have to be designed for maximum load capacity and durability. Basic Information About Gearing Classification Gearing type Module Dimensions from - to Spur wheels, Rotorshafts and other components of drive technology External-/ 0,5 - 6 Internal gearings Spur toothed Helical toothed Lenght up to 480mm Diameter up to 330 mm 9...
Open the catalog to page 3
All Framo Morat catalogs and technical brochures

Compare up to 10 products