Catalogs

>

Visio Box
Catalog excerpts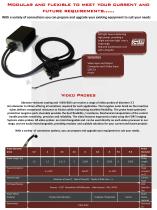 Modular and flexible to meet your current and future requirements…… With a variety of connections you can prepare and upgrade your existing equipment to suit your needs LED light source delivering high power, providing a bright and even light over a long-range, Reduced maintenance cost with a long life. Connections Video input and Output Composite and S-Video Input USB 2.0 Power Video Probes Abrasion-resistant coating and VISIO BOX can receive a range of video probes of diameter 3.7 mm diameter to 22mm offering all variations required for each application. The tungsten outer braid on the...
Open the catalog to page 2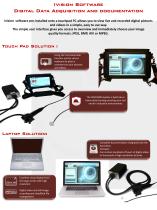 Ivision Software Digital Data Acquisition and documentation Ivision software pre-installed onto a touchpad PC allows you to view live and recorded digital pictures and videos in a simple, easy to use way. The simple user interface gives you access to overview and immediately choose your image quality formats: JPEG, BMP, AVI or MPEG. Touch Pad Solution : Using the Text Generator function via the virtual keyboard to place a comment on your pictures and videos. The VISIO BOX System is built into a heavy duty housing ensuring your can work in industrial environments Laptop Solution: Complete...
Open the catalog to page 3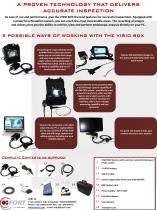 A PROVEN TECHNOLOGY THAT DELIVERS ACCURATE INSPECTION Its ease of use and performance give the VISIO BOX the best features for successful inspections. Equipped with a powerful articulation system, you can reach the most inaccessible areas. The recording of images and videos gives you the ability to archive, view and perform endoscopic analysis directly on your PC. 5 POSSIBLE WAYS OF WORKING WITH THE VISIO BOX Connecting the output directly to the VUMAN Video Endoscope system allows you to use both short range and long range endoscopes on a single system, taking advantage of the 320GB Hard...
Open the catalog to page 4
All FORT IMAGING SYSTEMS catalogs and technical brochures

Compare up to 10 products