Catalogs

>

Sabre 2.4 / 4.0
Catalog excerpts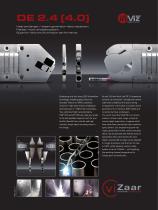 DE 2.4 (4.0) Heat exchanger / steam generator video inspection. Flatest, most versatile system. Superior video and illumination performance. Employing only the latest LED illumination technology, breaking glass fibres are obsolete history for INVIZ customers. 25 lumen + light turbo mode is enabling to illuminate even 4" / 100mm ID round pipes. Two optimized (light sensivite) optics (100° FOV and 60° FOV) will make your probe to the best possible inspection tool for your facillity. Benefit from colorful and high contrast, forget about annoying noise in the image. At only 2,40 mm thick, the DE 2.4 inspection camera can maneuver through the narrow tube lanes created by the space saving arrangement of the tubes in nuclear steam generators (incl. Siemens KWU style) and conventional heat exchangers. The world most flat INVIZ DE 2.4 camera allows to make a wide range of special narrow (gap) inspections, in spaces which have never been reached by high resolution optics before. Our engineering team has made a great effort to offer camera solutions which may be operated with delivery tools or operated by hand. Alternativly the even higher resoluted DE 4.0 style can be adjusted in image sharpness and direction of view (+/-30°), while allowing custom made probes of up to 15 Meter – not forgetting the working channel preparation for foreign part retrieval tools.
Open the catalog to page 1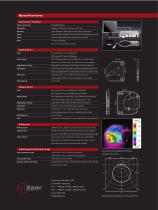 Specifications Control unit / Processor Power requirements Light adjustment, White balance setting (color adjustment) composite VBS and S-VHS (Y/C) out, NTSC or PAL (depending on camera) Outlet for digital INVIZ LCD image and movie recorder 19" housing available CCU can only serve DE 2.4 or DE 4.0 PAL video 380 TV lines / 290.000 pixel NTSC video 330 TV lines / 250.000 pixel Optical system 100° FOV standard optic, 3mm to 200mm fix focus field of depth. Option: 60° 'tele' lens system, fix-mounted, non interchangable. usage with 14" CRT monitor /100° FOV: 10x / 20 mm distance. 2 pieces high...
Open the catalog to page 2
All FORT IMAGING SYSTEMS catalogs and technical brochures

Compare up to 10 products