Catalogs

>

SDA: Smart Dosing Applicator
Catalog excerpts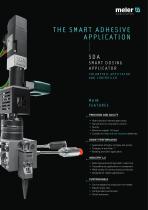 THE SMART ADHESIVE APPLIEATION SD A SMART DOSING APPLICATOR VOLUMETRIC APPLICATOR AND CONTROLLER • High-precision internal gear pump. • Servomotor for volumetric control. • Sturdy. • Minimum weight (4,5 kgs). • Suitable for high and low viscosity adhesives.
Open the catalog to page 1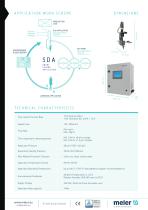 SET POINT Glue application scheme TECHNICAL CHARACTERISTICS Flow meter Precision Rate Speed Lines Flow Rate Time response for bead sequences Applicator Pressure Equipment Feeding Pressure Max. Module Pneumatic Pressure 1 % Tolerance (Max.) 1,5% Tolerance (for a CPK = 1,67) 150...300mm/s Min. 6g/m Max. 30g/m Min. 0,9s for ±8 g/m change Min. 0,3s for ±1,6 g/m change 80 bar (1305-1160 psi) 30 bar (392-580 psi) 6 bar; dry, clean, unlubricated Applicator Temperature Control Applicator Operating Temperature Environmental Conditions Supply Voltage Applicator Mass (approx.) (PtIOO, Nil 20) Up to...
Open the catalog to page 2
All Focke Meler Gluing Solutions catalogs and technical brochures

Compare up to 10 products