Catalogs

>

Micron + Foam
Catalog excerpts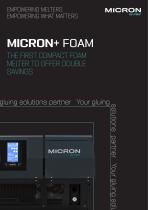 EMPOWERING MELTERS EMPOWERING WHAT MATTERS MICRON+ FOAM THE FIRST COMPACT FOAM MELTER TO OFFER DOUBLE SAVINGS solutions partner Your gluing solu gluing solutions partner Your gluing
Open the catalog to page 1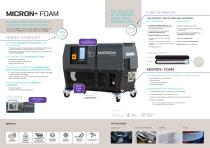 THE SUCCESS OF ACHIEVING MORE WHILE NEEDING LESS. MICRON+ FOAM INCREASED EFFICIENCY, HIGHER PRODUCTIVITY The combination of two cutting-edge technologies: the efficiency of Micron+ and the productivity of Foam THE PERFECT MIX OF GAS AND ADHESIVE GETTING MORE USING LESS Increases the bead volume and its contact area with the substrate with lower adhesive density Compatible with a wide range of adhesives (PSA, EVA, PA) Greater flexibility in production MICRON+ TECHNOLOGY Adhesive savings (up to 50%) Optimum adhesion with less adhesive consumption Reduced energy consumption and optimisation of...
Open the catalog to page 2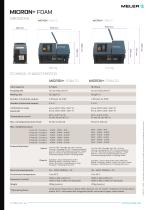 MICRON+ FOAM DIMENSIONS: TECHNICAL CHARACTERISTICS: MICRON+ FOAM 10 Pumping rate Melting rate Number of hydraulic outputs Number of electrical outputs Temperature range Temperature control Max. installation power Pump 3,3 • 2 outputs Pump 3,3 • 4 outputs Pump 3,3 • 5 outputs Pump 6,6 • 2 outputs Pump 6,6 • 4 outputs Pump 6,6 • 5 outputs External functions: Unit On-Off • Standby On-Off • Activity Control • Pumping On-Off • Communications On-Off • Electrical Outputs Inhibition • Reset Alarms • Externar pressure/speed control • External pumpig control • Pumping mode Unit On-Off • Standby...
Open the catalog to page 3
All Focke Meler Gluing Solutions catalogs and technical brochures

Compare up to 10 products