Catalogs

>

Cantho, high melting rate
Catalog excerpts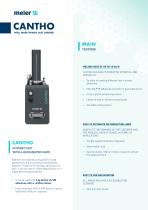 CANTHO WELL MADE THINGS LAST LONGER MAIN FEATURES MELTING RATE OF UP TO 10 KG/H CANTHO HAS GREAT PRODUCTION POTENTIAL AND VERSATILITY Suitable for melting different high-viscosity adhesives. EVA and PUR adhesives in blocks or granulate forms. It has a piston-positioning sensor. Choice of with or without control panel. Available without piston. EASY TO INTEGRATE ON PRODUCTION LINES ADAPTS TO THE DEMANDS OF THE CUSTOMER AND THE PROCESS, HIGHLY FLEXIBLE IN TERMS OF APPLICATIONS CANTHO HOTMELT UNIT WITH A HIGH MELTING RATE Its light weight facilitates integration. Small melter size. Easy-to-access interior makes it easier to extract the adhesive block. Hotmelt unit especially designed for wood applications and for automatic bookbinding systems. Thanks to its melting rate of up to 10 kg/h, it can be used in simple applications or in highly demanding processes. EASY TO USE AND MAINTAIN It can be used with 2 kg blocks of PUR adhesives with or without inliner. Fast charging of PUR or EVA blocks or granulate forms. 4000 cm3 capacity. ALL AREAS ARE EASILY ACCESSIBLE FOR CLEANING Safe and easy to use.
Open the catalog to page 1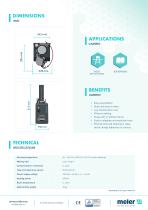 BENEFITS CANTHO • Easy accessibility. • Quick and easy to clean. • Low maintenance cost. • Efficient melting. • Slugs with or without inliner. • Easy to integrate on production lines. • Minimal time and cleaning is required to change adhesives or colours. SPECIFICATIONS Working temperature Melting rate* Compressed air connection Type of temperature sensor Power supply voltage Heating power Room temperature Approximate weight 20... 160° C for PUR/ 20...21 00 C for other adhesives Up to 10 kg/h 5.6 bar Pt100 o Ni120 230 VAC, L+N+PE or L1 + L2+PE 2400 W 5. 40° C 35 kg 'Depending on the type of...
Open the catalog to page 2
All Focke Meler Gluing Solutions catalogs and technical brochures

Compare up to 10 products