Catalogs

>

FLEXCO

>

X2088
Catalog excerpts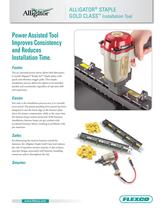 wwwwww.fl.eflxecxoc.oc.ocomm ALLIGATOR® STAPLE GOLD CLASS™ Installation Tool Faster. The air operated power driver allows belt fabricators to install Alligator® Ready Set™ Staple plates with quick and effortless trigger pulls. This simple installation process allows for splices to be installed quickly and consistently, regardless of operator skill and experience. Easier. Not only is the installation process easy, it is virtually error-proof. The patent pending drive punch has been designed to seat the front edge of the fastener plate down for proper compression, while at the same time the fastener loops remain protected. With hammer installation, fastener loops can get crushed with accidental hammer blows, resulting in problems with pin insertion. Safer. By eliminating the need to hammer install the fasteners, the Alligator Staple Gold Class tool reduces the risk of repetitive motion injuries. It also reduces operator fatigue associated with hammer installing numerous splices throughout the day. Smarter. Power Assisted Tool Improves Consistency and Reduces Installation Time.
Open the catalog to page 1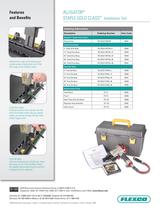 2525 Wisconsin Avenue • Downers Grove, IL 60515-4200 U.S.A. Telephone: (630)-971-0150 • Fax: (630)-971-1180 • E-mail: info@flexco.com • Web: www.flexco.com Australia: 61-2-9680-3322 • China: 86-21-33528388 • England: 44-1274-600-942 Germany: 49-7428-9406-0 • Mexico: 52 -55- 5674-5326 • South Africa: 27-11-608-4180 ©2008 Flexible Steel Lacing Company. Alligator® is a registered trademark. Gold Class™ and Ready Set™ are trademarks. 01/08-5. For Reorder: X2088 ALLIGATOR® STAPLE GOLD CLASS™ Installation Tool Features and Benefits Ordering Information Description Ordering Number Item Code...
Open the catalog to page 2
All FLEXCO catalogs and technical brochures

Archived catalogs

Compare up to 10 products