Catalogs

>

FLEXCO

>

X1893
Catalog excerpts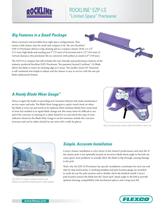 ® ROCKLINE® EZP-LS "Limited Space" Precleaner ® wwwwww.fl.eflxecxoc.oc.ocomm A Handy Blade Wear Gauge™ Flexco is again the leader in providing new tensioner features that make maintenance service easier and safer. The Blade Wear Gauge gives a quick visual check on when the blade is worn out and needs to be replaced. Most urethane blades have some kind of wear line molded in to signal blade change out. But many times it's difficult to see, and if the conveyor is running it's a safety hazard to try and check this type of wear indicator. However, the Blade Wear Gauge is on the tensioner outside the conveyor structure and can be safely checked at any time with a walk-by glance. Easy-to-read pointer shows when the blade is worn out. The EZP-LS is easy to install correctly and delivers an excellent cleaning job in tight spaces. Simple, Accurate Installation Correct cleaner installation is a key factor in the cleaner's performance and wear life. If the cleaner pole is not optimally located, an incorrect blade attack angle to the belt can cause quick-wear problems or actually allow the blade to flip through, causing damage to the pole. That's why the EZP-LS Precleaner has specific installation coordinates for each size and step-by-step instructions. A marking template and pole location gauge are included to easily lay out the pole location and to double-check the finished install. Correct pole location insures the blade hits the "sweet spot" attack angle to the belt to provide optimal cleaning, compatibility with mechanical splices, and a long wear life. Big Features in a Small Package Many conveyors and portables have tight space configurations. That means a belt cleaner must be small and compact to fit. The new Rockline® EZP-LS Precleaner delivers a big cleaning job in a compact cleaner. With a 4-1/2" (113 mm) high blade and needing just 3" (75 mm) of horizontal and 6-1/2" (165 mm) of vertical clearance, this precleaner fits on conveyors with pulleys as small as 6" (150 mm). The EZP-LS is compact, but still includes the user-friendly and performance features of the industry-preferred Rockline EZP1 Precleaner. The patented, faceted ConShear™-LS Blade allows the blade to renew its cleaning edge as it wears. The smaller-sized LST Tensioner is self-contained and simple to adjust; and the cleaner is easy to service with the one-pin blade replacement feature.
Open the catalog to page 1
www.flexco.com RockLINE® EZP-LS "Limited Space" Precleaner 2525 Wisconsin Avenue • Downers Grove, IL 60515-4200 U.S.A. Tel: (630)-971-0150 • Fax: (630)-971-1180 • E-mail: info@flexco.com • Web: www.flexco.com Australia: 61-2-9680-3322 • China: 86-21-33528388 • England: 44-1274-600-942 Germany: 49-7428-9406-0 • Mexico: 52 -55- 5674-5326 • South Africa: 27-11-608-4180 ©2010 Flexible Steel Lacing Company. Rockline® is a registered trademark. 04/10. For Reorder: X1893 The Flexco Visual Tension Check™ Authorized Distributor: Ordering Information EZP-LS Precleaners - Belt Width Minus 2" Blade...
Open the catalog to page 2
All FLEXCO catalogs and technical brochures

Archived catalogs

Compare up to 10 products