Catalogs

>

FLEXCO

>

X1207
Catalog excerpts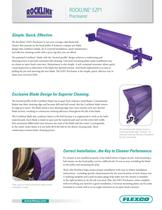 ® ROCKLINE® EZP1 Precleaner ® wwwwww.fl.eflxecxoc.oc.ocomm Exclusive Blade Design for Superior Cleaning. The faceted profile of the ConShear blade sets it apart from ordinary solid blades. Conventional blades lose their cleaning edge and become dull and bull-nosed. But the ConShear blade renews its edge as it wears. The blade forms a new shearing edge once wear reaches each new faceted blade section, resulting in continuous cleaning efficiency throughout the life of the blade. The ConShear blade also conforms better to the belt because it is engineered to work in the belt's material path. Each blade is made to span just the material path and not the entire belt width. This minimizes differential wear between the ends of the blade and the center. Consequently, as the center wears faster, it is not held off of the belt by the slower wearing ends. More conformance means better cleaning power. The faceted profile design results in continuous blade edge "renewal" for improved cleaning efficiency throughout the life of the blade. Clear, easy-to-follow instructions make correct installation a snap. Correct Installation...the Key to Cleaner Performance. If a cleaner is not installed properly, it has failed before it begins its job. And mounting a belt cleaner on the head pulley can be a difficult job. It's not as easy as holding the blade to the pulley and mounting the pole. That's why Rockline helps ensure proper installation with easy-to-follow installation instructions - including specific measurements for the exact location of each cleaner size. A marking template and a pole location gauge help make sure the cleaner is installed in the right position to do the job you need. Plus, the EZP1 Precleaner comes complete with everything you need for a good installation. Universal mounting plates can be easily mounted to a chute wall or to an angle extension on an open-head conveyor. Simple, Quick, Effective. The Rockline® EZP1 Precleaner is not your average solid-blade belt cleaner that mounts on the head pulley. It features a unique uni-blade design that combines simple, do-it-yourself installation, quick maintenance and effective cleaning results with a price tag that you can afford. The patented ConShear™ blade with the "faceted profile" design achieves a conforming and shearing action to provide consistent belt cleaning. Universal mounting plates make installation easy on chutes or open-head conveyors. Maintenance is also simple. A self-contained tensioner allows quick visual inspection to determine if the blade has optimal tension. And blade replacement is as easy as pulling the pin and inserting the new blade. The EZP1 Precleaner is the simple, quick, effective way to clean your conveyor belts.
Open the catalog to page 1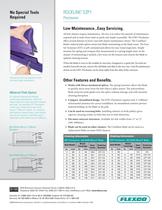 www.flexco.com RockLINE® EZP1 Precleaner 2525 Wisconsin Avenue • Downers Grove, IL 60515-4200 U.S.A. Telephone: (630)-971-0150 • Fax: (630)-971-1180 • E-mail: info@flexco.com • Web: www.flexco.com Australia: 61-2-9680-3322 • China: 86-21-33528388 • England: 44-1274-600-942 Germany: 49-7428-9406-0 • Mexico: 52 -55- 5674-5326 • South Africa: 27-11-608-4180 ©2008 Flexible Steel Lacing Company. Rockline® is a registered trademark, and ConShear™ is a trademark. 04/08. For Reorder: X1207 No Special Tools Required Ordering Information EZP1 Precleaners - Belt Width Minus 2" Blade Belt Width Blade...
Open the catalog to page 2
All FLEXCO catalogs and technical brochures

Archived catalogs

Compare up to 10 products