Catalogs

>

FLEXCO

>

Far-Pul® HD® Belt Clamps
Catalog excerpts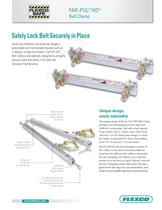 Far-Pul® HD® Belt Clamp Safely Lock Belt Securely in Place Avoid the problems and potential dangers associated with homemade devices such as c-clamps, lumber and chains. Far-Pul® HD® Belt Clamps are specially designed to properly secure a belt and clamp it for safe belt conveyor maintenance. Retaining pins ensure scissors remain secured on the bar Clamp-bar pins simplify alignment and positioning Grooves on clamp bars for non-slip grip Adjustable steel scissors (toggle clamps) Pre-Clamping Screw aids scissor placement and facilitates easier tensioning of come-alongs www.flexco.com www.flexco.com Unique design, easily adjustable The unique design of the Far-Pul® HD® Belt Clamp provides even tensioning across the entire belt width for a secure grip. And with a load capacity of up to three tons (2.7 metric tons), when used with two 1-1⁄2-ton chain come-alongs, it is ideal for rubber covered and PVC heavy-duty belting from 7/32" (6 mm) to 1" (25 mm) thick. The Far-Pul HD also accommodates a variety of belt widths. So the need to inventory different clamp bars for different belt widths is eliminated. Our pre-clamping screw allows you to slide the scissors on to the bars in a quick, efficient, and safe manner. Clamping scissors slide easily into place against both belt edges for easy adjustability. And clamp-bar pins simplify alignment and positioning.
Open the catalog to page 1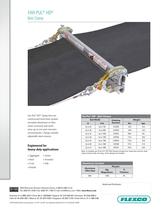 Belt Clamp Far-Pur* HD" clamp bars are constructed from heat-treated extruded aluminum so they resist corrosion and won't environments. Clamps include adjustable steel scissors. heavy-duty applications Far-PuP HD® Belt Clamps Note: A complete set of Far-Pul® HD" Belt Clamps includes four clamp bars and four steel clamp scissors with carry bag. Come-alongs not included. 2525 Wisconsin Avenue • Downers Grove, IL60515-4200 U.S.A. Tel: (630)-971-0150'Fax: (630) 971 -1180• E-mail: info@flexco.com 'Web: www.flexco.com Australia: 61-2-9680-3322 • China: 86-21-33528388 • England: 44-1274-600-942 •...
Open the catalog to page 2
All FLEXCO catalogs and technical brochures

Archived catalogs

Compare up to 10 products