Catalogs

>

FLEXCO

>

EZP1 Precleaner
Catalog excerpts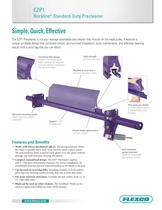 EZP1 Rockline® Standard-Duty Precleaner Simple, Quick, Effective The EZP1 Precleaner is not your average solid-blade belt cleaner that mounts on the head pulley. It features a unique uni-blade design that combines simple, do-it-yourself installation, quick maintenance, and effective cleaning results with a price tag that you can afford. Faceted profile design results in continuous blade edge "renewal" for improved cleaning efficiency throughout the life of the blade Universal mounting plates easily mount and simplify installation High strength aluminum extrusion Molded-in wear line on all Flexco Conshear™ blades Pole plate pre-drilled for material path options, 3 different blade sizes available Rugged 2-3/8" diameter pole Simple blade replacement - no tools needed Features and Benefits • Works with Flexco mechanical splices. The spring tensioner allows the blade to quickly move away from the belt when a splice passes. The polyurethane blade material easily glides over the splice without damage and with minimal cleaning disruption. • Compact, streamlined design. The EZP1 Precleaner requires only 4" (100 mm) of horizontal clearance for correct installation. Its streamlined contours prevent material buildup on the blade or the pole. • Can be used on reversing belts. Installing cleaners on both pulleys gives superior cleaning results on belts that run in both directions. • Fits most conveyor structures. Available for belt widths from 12" to 72" (300-1800 mm). • Blade can be used on other cleaners. The ConShear™ blade can be used as a replacement blade on many OEM cleaners. www.flexco.com www.flexco.com Self-contained spring tensioner allows for measureable and verifiable tension.
Open the catalog to page 1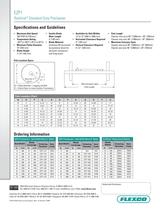 Rockline® Standard-Duty Precleaner • Maximum Belt Speed • Temperature Rating • Minimum Pulley Diameter • Blade Height Pole Location Specs Usable Blade Wear Length Blade Material abrasion resistance Available for Belt Widths Horizontal Clearance Required Vertical Clearance Required Pole Length Cleaner size over 48" (1200mm) + 34" (850mm) Maximum Conveyor Span Cleaner size over 48" (1200mm) + 29" (725mm) A = Pulley Diameter + Lagging and Belt C = Critical Spec to move location if necessary Pole Length Ordering Information EZP1 Precleaners - Belt Width Minus 8" Blade I ConShear'" Replacement...
Open the catalog to page 2
All FLEXCO catalogs and technical brochures

Archived catalogs

Compare up to 10 products