Catalogs

>

FLEXCO

>

DRX? 3000 Dynamic Beds
Catalog excerpts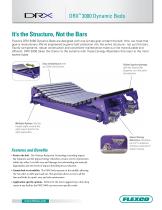 DRX™ 3000 Dynamic Beds It's the Structure, Not the Bars Flexco's DRX 3000 Dynamic Beds are designed with one simple goal: protect the belt. How we meet that goal is revolutionary. We've engineered superior belt protection into the entire structure - not just the bars. Sturdy components, robust construction and convenient maintenance make our line more durable and efficient. DRX 3000 takes this theory to the extreme with Impact Energy Absorbers that react to the most severe loads. Easy maintenance with our Slide-Out Service. Defend against damage with the Impact Bar Supports, our first point of protection. Multiple Options, like the trough angle, ensure the right impact bed for the right application. Features and Benefits • Protect the belt. The Velocity Reduction Technology, including Impact Bar Supports and the Impact Energy Absorbers, ensure a level of protection unlike any other. Less belt wear and damage, less rebounding and material degradation and two levels of impact absorbing force reduction. • Unmatched serviceability. The DRX beds separate in the middle, allowing the two sides to slide apart and out. This provides direct access to all the bars and bolts for quick, easy and safe maintenance. • Application specific options. Perfect for the most rugged, heavy-duty drop zones at any facility, the DRX 3000 can meet your specific needs. www.flexco.com www.flexco.com Impact Energy Absorbers compress up to 3" to disperse immense amounts of impact energy.
Open the catalog to page 1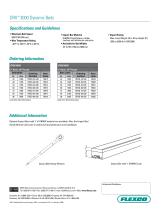 DRX™ 3000 Dynamic Beds Specifications and Guidelines • Maximum Belt Speed 600 FPM (3M/sec) • Max Temperature Rating -40°F to 180°F (-40°C to 82°C) • Impact Bar Material UHMW Polyethylene, rubber cushion and aluminum extrusion • Available for Belt Widths 42" to 96" (1050 to 2400mm) • Impact Energy Max Lump Weight (lb) x Drop Height (ft) 1500 to 3000 lb-ft DRX3000 Lead time: 20 working days Lead time: 20 working days Additional Information Optional Impact Bars with 1" of UHMW material are available. Also, the Impact Bed Handy Wrench will come in useful during maintenance and installation....
Open the catalog to page 2
All FLEXCO catalogs and technical brochures

Archived catalogs

Compare up to 10 products