Catalogs

>

FLEXCO

>

Belt cleats
Catalog excerpts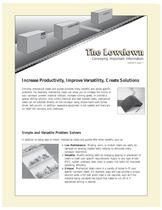 Conveying Important Information volume 4, issue 1 Increase Productivity, Improve Versatility, Create Solutions Utilizing mechanical cleats and guides provides many benefits and solves specific problems. For example, mechanical cleats can allow you to increase the incline of your conveyor, prevent material rollback, increase running speed, or provide a special sorting solution. And unlike chemical and heat welded cleats, mechanical cleats can be installed directly on the conveyor using simple hand tools (screw driver, belt punch). In addition, expensive equipment is not needed and there are no 'shelf life' concerns with chemicals. Simple and Versatile Problem Solvers In addition to being easy to install, mechanical cleats and guides offer other benefits, such as: Missing, worn, or broken cleats can easily · Low Maintenance: cleated belts, helping to eliminate costly be replaced on existing conveyor downtime. Versatile: Modify existing belts by changing spacing or placement of cleats to meet your specific requirements. Apply to any type of belt (PVC, rubber, urethane, even chain or plastic link belts) for improved operating efficiency. Unique: Mechanical cleats come in a variety of styles to fit your specific conveyor needs. For example, pegs and lugs provide a unique solution when a full belt width cleat is not required, such as if the material being conveyed has liquid that needs to run off or if specialized sorting is desired.
Open the catalog to page 1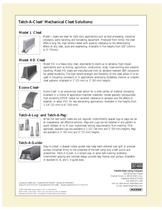 Tatch-A-Cleat® Mechanical Cleat Solutions: Model L Cleat Model L cleats are ideal for light-duty applications such as food processing, industrial conveyors, parts handling and harvesting equipment. Produced from nitrile, the cleat offers a long life, high tensile rubber with superior resistance to the deteriorating effects of oils, heat, acids and weathering. Available in five heights from 5/8" (16mm) to 3" (75mm). Model HD Cleat Model HD is a heavy-duty cleat, engineered to stand up to abrasive, high-impact applications such as mining, agriculture, construction, scrap, trash-burning and...
Open the catalog to page 2
All FLEXCO catalogs and technical brochures

Archived catalogs

Compare up to 10 products