Catalogs

>

Push Camera PYTHON
Catalog excerpts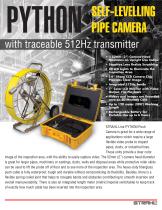 SELF-LEVELLING PIPE CAMERA with traceable 512Hz transmitter • Ø 52mm (2") Camera Head Maintains an Upright Live Image • Sapphire Lens Resists Scratching • 30 LED Lights to Illuminate the Inspection Area • 1⁄4" Sharp CCD Camera Chip Provides Clear Image • Integrated 512Hz Sonde • 7" Color LCD Monitor with Video Output, File Playback • Videos and Images are Recorded onto an SD Memory Card • Up to 120 meter (394') Working Length • Rechargeable Battery for Portable Use up to 6 Hours STRAHL Line PYTHON Push Camera is great for a wide range of applications which require a large flexible video probe to inspect pipes, ducts, or industrial lines. These units provide a clear color image of the inspection area, with the ability to easily capture video. The 52mm (2") camera head diameter is great for larger pipes, machinery or castings, ducts, wells and disposal areas while protective roller skids can be used to lift the probe off of floor and to see more of the inspection area. The heavy-duty fiberglass push cable is fully waterproof, tough and durable without compromising its flexibility. Besides, there is a flexible spring coiled joint that helps to navigate bends and obstacles contributing to smooth insertion and overall maneuverability. There is also an integrated length meter (metric/imperial switchable) to keep track of exactly how much cable has been inserted into the inspection area.
Open the catalog to page 1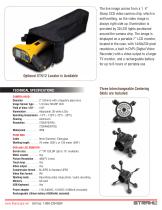 The live image comes from a 1 4" Sharp CCD video camera chip, which is self levelling, so the video image is always right side up. Illumination is provided by 30 LED lights positioned around the camera chip. The image is displayed on a portable 7" LCD monitor, located in the case, with 1440x234 pixel resolution, a built in DVR (Digital Video Recorder) with a video output to a larger TV monitor, and a rechargeable battery for up to 6 hours of portable use Optional XT512 Locator is Available TECHNICAL SPECIFICATIONS: CAMERA HEAD Diameter . . . . . . . . . . . . . 2" (52mm) with a Sapphire...
Open the catalog to page 2
All Fiberscope.net by MEDIT catalogs and technical brochures

Compare up to 10 products