Catalogs

>

Drain Camera VIPER ADV
Catalog excerpts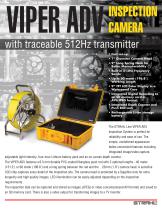 INSPECTION CAMERA with traceable 512Hz transmitter • Fast set-up. • 1" Diameter Camera Head • 9" Long Spring Neck for Better Maneuverability • Built-in 512Hz Frequency Sonde • Up to 60 meter (196.8') Working Length • 9" TFT LCD Color Display in a Waterproof Case • Integrated Digital Recording to an SD memory card in AVI/JPEG format. • Integrated Depth Counter and Push Rod Lock • Rechargeable Li-ion storage battery The STRAHL Line VIPER ADV Inspection System is perfect for reliability and ease of use. The simple, uncluttered appearance belies convenient features including integrated image/video capture, adjustable light intensity, four-hour Lithium battery pack and an on-screen depth counter. The VIPER ADV features a 6.5 mm durable PVC-coated fiberglass push rod with 2 optional lengths - 40 meter (131.2') or 60 meter (196.8') and a long spring between the rod and the 23mm (1.0") camera head. A sensitive CCD chip captures every detail of the inspection site. The camera head is protected by a Sapphire lens for extra longevity and high quality images. LED illumination can be easily adjusted depending on the inspection requirements. The inspection data can be captured and stored as images (JPEG) or video (uncompressed AVI format) and saved to an SD memory card. There is also a video output for transferring images to a TV monitor.
Open the catalog to page 1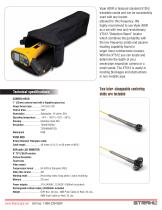 Viper ADW is featured standard 512Hz traceable sonde and can be successfully used with any locator allowed for this frequency. We highly recommend to use Viper ADW as a set with new and revolutionary XT512 "Detection Wand" locator which combines the portability with the low frequency sonde and passive locating capability found in larger more cumbersome locators. With the XT512 you can locate and determine the depth of your sewer/pipe inspection camera or a small sonde. The XT512 is useful in locating blockages and obstructions in non metallic pipe. Technical specifications: CAMERA HEAD 1"...
Open the catalog to page 2
All Fiberscope.net by MEDIT catalogs and technical brochures

Compare up to 10 products