Catalogs

>

Fasten automatically injectors on gas diffusers
Catalog excerpts
Tightening automation Plumbing and Heating industry Customer's Need: Fasten automatically a high number of injectors on gas diffusers for hobs. The criticality is given by the small size of the components, in particular of injectors with hexagonal head which have length to diameter ratio close to 1: length 10 mm and diameter 8 mm. Cycle time: 3 seconds for each diffuser. Diffuser Injectors The solution: We developed a MCA tightening module able to feed and automatically tighten the small injectors into extremely narrow gas diffusers.
Open the catalog to page 1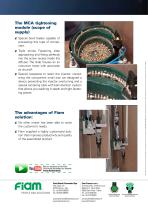 The MCA tightening module (scope of supply) Special bowl feeder capable of processing this type of component. December 2013 | Printed on recycled paper for the safeguard of the environment | Copyright Fiam Spa. The unauthorised distribution and/or reproduction of all or part of this publication is strictly forbidden. Triple stroke Fastening slide approaching and fitting perfectly into the screw recess inside the diffuser. The slide houses an air nutrunner motor with automatic air shut-off. Special nosepiece to retain the injector: considering the component small size we designed a device...
Open the catalog to page 2
All FIAM Utensili Pneumatici Spa catalogs and technical brochures

Archived catalogs

Compare up to 10 products