Catalogs

>

UFO-EHC
Catalog excerpts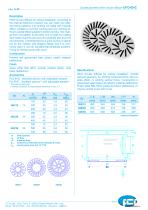 Double geometry whirl circular diffuser UFO-EHC Description Whirl circular diffuser for ceiling installation. According to the internal deflectors' position you can reach two different throw patterns: one whirling not radial with Coanda effect, suitable to summer running and one whirling without Coanda effect suitable to winter running. The change from one pattern to the other one is made by rotating each blade round its own axis (it is possible also from the environment). Characterized by a quick mixing, it stands out for the modern and elegant design and it is commonly used in civil air conditioning/ventilating systems. Fixing by central screw with cover. Construction Painted and galvanised steel (plate), plastic material (deflectors). Finish Gloss white RAL 9010, powder painted (plate), matt black (deflectors). Accessories Specifications Whirl circular diffuser for ceiling installation. Double exhaust geometry for whirling horizontal throw with Co-anda effect, or whirling vertical throw. Construction in galvanised steel (plate) and plastic material (deflectors). Finish white RAL 9010 (plate) and black (deflectors). Fixing by central screw with cover. * external diameter N slots quantity qv air flow X02 isothermic horizontal throw (isotachy 0,2 m/s) Lwa sound power level (ref. 10-12 W) F.C.R. SpA - Via E. Fermi, 3 - 20092 Cinisello Balsamo (MI) - Italy phone +39 02 61798 1 - fax +39 02 61798 300 - www.fcr.it - fcr@fcr.it
Open the catalog to page 1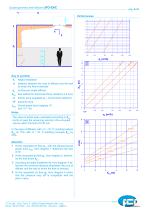 Double geometry whirl diffuser Key to symbols height installation distance between the core of diffuser and the wall to which the flow is directed air flow per single diffuser themic jump (supplied air - environment setpoint) pressure drop X0,2 free isothermic horizontal throw (isotachy 0,2 m/s) LWA Sound power level weighed "A" (ref. 10-12 W) Notes The value of d has been calculated according to X0,2 and hi to keep the remaining velocity in the occupied volume within the limit of 0,20 m/s. In the case of diffusion with Dt = -10 °C (cooling) reduce X0,2 by 15%, with Dt = 10 °C (heating)...
Open the catalog to page 2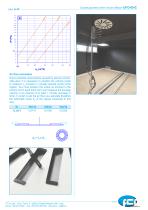 Double geometry whirl circular diffuser Air flow calculation Due to possible asymmetries caused by plenum and flexible duct, it is necessary to position the velocity probe to measure vk at least in 4 equally spaced points at the angles. You must position the probe as showed in the picture and in each point you must measure the average velocity in an interval of at least 1 minute (average in time). In order to get the air flow you calculate therefore the arithmetic mean ṽk of the values measured in this way. Gr F.C.R. SpA - Via E. Fermi, 3 - 20092 Cinisello Balsamo (MI) - Italy phone +39 02...
Open the catalog to page 3
All F.C.R. SPA catalogs and technical brochures
Compare up to 10 products