Catalogs

>

UFO-C
Catalog excerpts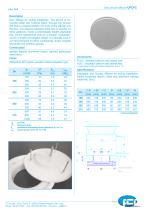 Disc circular diffuser UFO-C Description Disc diffuser for ceiling installation. The launch is horizontal radial with Coanda effect, through the circular slot that is created between the body of the diffuser and the disc : the distance between these two is variable on three positions. Inside a intermediate height adjustable disc (screw adjustment) acts as a damper. Characterized by a simple and elegant design, it is tipically used in civil environments for office conditioning, shops, hospital structures snd exibition spaces. Construction painted Natural aluminum (body), painted galvanized steel (disc). Finish White RAL 9010 gloss, powder-coated polyester type. Xn2 isothermal horizontal throw (isotachia 0.2 m / s) Lwa sound power level (rif. 10-12 W) Accessories PLSC : Standard plenum with lateral inlet. PLIC : insulated* plenum with lateral inlet. * polyurethane internal isolation thickness. 6 mm, cl.1 Specifications Adjustable disc circular diffuser for ceiling installation. Radial horizontal launch. Steel and aluminum painted white RAL 9010. F.C.R. SpA - Via E. Fermi, 3 - 20092 Cinisello Balsamo (MI) - Italy phone +39 02 61798 1 - fax +39 02 61798 300 - www.fcr.it - fcr@fcr.it
Open the catalog to page 1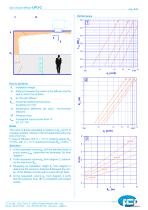 Disc circular diffuser distance between the center of the diffuser and the wall to which the jet flows X0,2 horizontal isothermal free throw (isotachìa 0,2 m/s) Dt DP installation height temperature difference (air input - environment setpoint) Pressure drop LWA A-weighted sound power level "A" (rif. 10-12 W) The value of d was calculated in relation to X0,2 and hi to maintain residual velocity in the occupied area within the limit of 0,2 m/s In case of diffusion with Dt = -10 °C (cooling) reduce X0,2 of 15%, with Dt = 10 °C (heating) increase X0,2 of 20%. 1 At the requested volume qv, with...
Open the catalog to page 2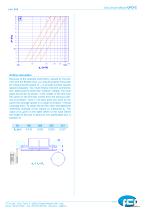 Disc circular diffuser Airflow calculation Because of the possible asymmetry caused by the plenum and the flexible duct, you should position the probe for measuring the speed of vk in at least 4 points equally spaced angularly. You must employ hot-wire anemometers, taking care to orient the "window" radially. You must place the probe as shown: in the middle of the slot near the same (in the first few inches from the exhaust velocity is constant - zone 1). At each point you have to measure the average speed in a range of at least 1 minute (average time). To obtain the air flow, then...
Open the catalog to page 3
All F.C.R. SPA catalogs and technical brochures
Compare up to 10 products