Catalogs

>

DMF
Catalog excerpts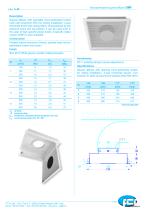 Microperforated square diffuser DMF Description Square diffuser with openable micro-perforated screen (with ratio empty/full 40%) for ceiling installation. 4-way horizontal throw with ceiling effect. Characterized by low pressure drops and low pitches, it can be used even in the case of high specific power levels. A specific intake version (DRF) is also available. Construction Painted natural aluminum (frame), painted steel (micro-perforated screen and cover). Finish RAL 9010 White glossy, powder coated polyester. Accessories DT-7: butterfly damper (screw adjustment). Specifications Square diffuser with opening micro-perforated screen, for ceiling installation. 4-way horizontal launch. Construction in steel and aluminum painted white RAL 9010. F.C.R. SpA - Via E. Fermi, 3 - 20092 Cinisello Balsamo (MI) - Italy phone +39 02 61798 1 - fax +39 02 61798 300 - www.fcr.it - fcr@fcr.it
Open the catalog to page 1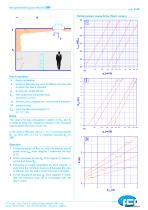 Performances: 4-way throw (flush screen) Microperforated square diffuser distance between the core of diffuser and the wall to which the flow is directed air flow per single diffuser X0,2 free isothermic horizontal throw (isotachy 0,2 m/s) Dt thermic jump (supplied air - environment setpoint) pressure drop LWA sound power level weighed "A" (rif. 10-12 W) Notes The value of d was calculated in relation to X0,2 and hi in order to keep the remaining velocity in the occupied volume within the limit of 0,20 m/s. 1 At the requested air flow qv , with the allowed sound power level LWA, from...
Open the catalog to page 2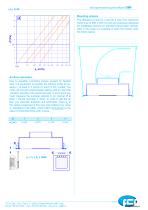 Microperforated square diffuser The diffusers of size Gr 3 and Gr 4 have the maximum frame size of 595 x 595 mm and are expressly designed for installation leaning on standard panel false ceilings. Also in this case it is possible to open the screen (only the frame leans). Air-flow calculation Due to possible symmetry losses caused by flexible duct, it is necessary to position the velocity probe to measure vk at least in 3 points on each of the 4 sides. You must use hot wire anemometers taking care to orient the "window" parallel to the examined side. In each point you must measure the...
Open the catalog to page 3
All F.C.R. SPA catalogs and technical brochures
Compare up to 10 products