Catalogs

>

BPA 20 Box
Catalog excerpts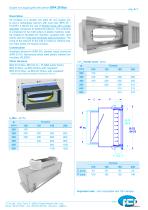 Double row supply grille with plenum BPA 20 Box Description Kit consists of a double row pitch 20 mm supply grille and a rectangular plenum with oval inlet (BPA 20 + PLSSR). It allows the use of flexible ducts with a larger diameter compared to traditional plenum. The entrance is composed of two half-collars of plastic material, suitably shaped to facilitate the insertion, supplied with duct clamp seat for a fast and extremely safe connection. The fixing of the plenum to the wall is made by internal rotation clips (does not require screws). Construction Anodised aluminum (BPA 20), painted natral aluminum (BPA 20 W). Galvanized sheet steel plastic material semicollars (PLSSR). Other Versions BPA 20 W Box: BPA 20 W + PLSSR (white finish) BPA 20 Boxi: as BPA 20 Box with insulation* BPA 20 W Boxi: as BPA 20 W Box with insulation* * interior polyurethane insulation thickness 6 mm, cl.1 Important note: - Not compatible with CB1 damper F.C.R. SpA - Via E. Fermi, 3 - 20092 Cinisello Balsamo (MI) - Italy phone +39 02 61798 1 - fax +39 02 61798 300 - www.fcr.it - fcr@fcr.it
Open the catalog to page 1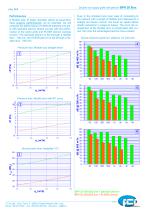 Double row supply grille with plenum pag. A-2 Performances A flexible tube of larger diameter allows at equal flow rates superior performances. As an example, we will compare the performance of a BPA 20 400x200 mm grille with standard plenum (green curves) with the performance of the same grille and PLSSR plenum (orange curves). The standard plenum is fed through a flexible duct ∅160 mm, the PLSSR plenum is fed through a flexible duct ∅250 mm. Even in the simplest (and rare) case of connecting to the network with a length of flexible duct disposed in a straight and tense manner, the lower...
Open the catalog to page 2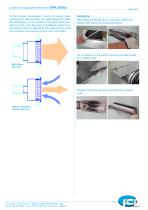 Double row supply grille with plenum To the obvious advantages in terms of energy (lower pressure drop) and acoustic, are added those of a better flow distribution on the surface of the grille which launches from the entire free area. In traditional plenum only the central portion is affected by the outgoing flow, while the remaining part induces air from the environment. pag. A-3 Installation After fitting the flexible duct on the inlet, tighten the flexible duct clamp and insert the plenum. Fix the plenum to the wall by pressing the appropriate four rotation clips. BPA 20 Box (top view)...
Open the catalog to page 3
All F.C.R. SPA catalogs and technical brochures
Compare up to 10 products