Catalogs

>

FATH LEAN 4.0 - Overview
Catalog excerpts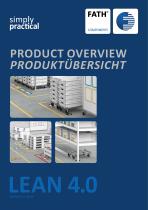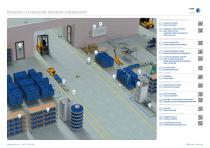 PRODUCT OVERVIEW PRODUKTÜBERSICHT Container Labelings Behälterkennzeichnungen VISUAL POCKETS SICHTTASCHEN KANBAN LABEL HOLDERS AND ENVELOPES KANBAN-ETIKETTENHALTER UND -HÜLLEN Shelf Labelings Regalkennzeichnungen SHELF LABELINGS REGALKENNZEICHNUNGEN Floor Markings Bodenmarkierungen FLOOR MARKINGS SHAPES AND FLOOR WINDOWS BODENMARKIERUNGSFORMEN UND -FENSTER FLOOR SIGNS BODENSCHILDER Stickers Aufkleber FLOOR MARKING TAPES BODENMARKIERUNGSBÄNDER STICKERS AUFKLEBER Insertings Systems Einstecksysteme INSERTING SYSTEMS EINSTECKSYSTEME Visual Bords Visual Boards VISUAL BORDS VISUAL BOARDS MAGNETIC...
Open the catalog to page 2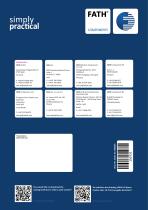 Headquarters: FATH GmbH FATH Machine Components Co., Ltd. Gewerbepark Hügelmühle 31 91174 Spalt 6533 Hazeltine National Drive, S uite 3 O rlando, FL 32822 Shengang Road No. 2001, Building 2 FATH do Brasil Componentes Industriais Ltda 6 Pegasus Court, North Lane A ldershot H ampshire GU12 4QP Av. Central 230, Int. 140 L os Lermas 67188 Guadalupe, N.L. Mexico Rodovia Raposo Tavares, S/N, Km 22,14 Bloco E - 509 Granja Viana. Cotia - SP Rudolf Dieselweg 14 5928 RA Venlo You would like to download the catalog LEAN 4.0 or order a print version? Sie möchten den Katalog LEAN 4.0 downloaden oder als...
Open the catalog to page 3
All FATH GmbH catalogs and technical brochures
Compare up to 10 products