Catalogs

>

ETP

>

ETP HYDRO-GRIP PENCIL 2013
Catalog excerpts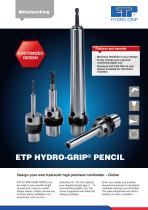 CUSTOMIZED DESIGN • Maximum flexibility in your design • Freely choose your required machining depth (L3) • Drawings and CAD-files of your design available for download instantly ETP HYDRO-GRIP® PENCIL Design your own hydraulic high precision toolholder – Online ETP HYDRO-GRIP PENCIL can be made to your specific length requirement, using our online design feature. Simply choose any machine shank available in our assortment, with any tool dimension (6 - 20 mm). Specify your required design type (1 – 3) and machining depth (L3). Our online programme will check the design possibility. Enter your details and quantity request and proceed to download complete drawings and CAD-files. Our sales department will shortly contact you with a quotation.
Open the catalog to page 1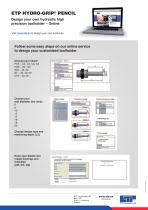 Design your own hydraulic high precision tool holder - Online Visit www.etp.se to design your own toolholder Follow some easy steps on our online service to design your customized toolholder: Choose your shank: Special Design* - Step 1 Choose your Choose design type and 2 Selact front design 3 Select looi dimension (dmt) without errors Enter your details and J WDUU Mte to receive a quote for this design. Please fd n the form below.
Open the catalog to page 2
All ETP catalogs and technical brochures

Archived catalogs
Compare up to 10 products