Catalogs

>

ETI

>

ETISURGE : POLYMERIC SURGE ARRESTERS
Catalog excerpts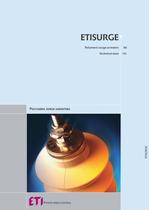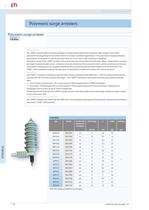 66 ETISURGE Rated voltage 9-36 kVrms Polymeric surge arresters Polymeric surge arresters ADVANTAGES: The "INZP" arrester offers all the advantages of a metal oxide distribution arrester in light-weight, low profile polymeric housing designed for either indoor or outdoor overhead applications. The polymeric housing eliminates the problem of chipped or cracked porcelain that can occur with rough handling or shipping. The failure mode of the "INZP" arrester is less severe than that of porcelain housed units. When violent failure mode of porcelain housed arresters occurs, it does so when the...
Open the catalog to page 2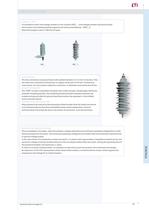 67 ETISURGE Polymeric surge arresters LINE TERMINAL The line connections accept terminals with suitable diameter of 12.5 mm in the slice. They also allow the connection of aluminium or copper conductors of 70 mm2 of maximum cross section. If a rod is used to make the connection, its diameter must be less than 8 mm. INSULATING BRACKET The "INZP" arrester is assembled complete with a high strength, molded glass reinforced polyester insulating bracket. The insulating bracket provides insulation between the arrester and ground after the ground lead disconnector has operated, in the unlikely...
Open the catalog to page 3
All ETI catalogs and technical brochures

Archived catalogs

Compare up to 10 products