Catalogs

>

SafeGuard Alarm Controller
Catalog excerpts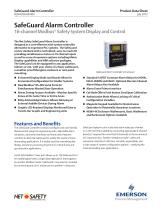 SafeGuard Alarm Controller Product Data Sheet SafeGuard Alarm Controller 16-channel Modbus® Safety System Display and Control The Net Safety SafeGuard Alarm Controller is designed as a cost-effective mini-system controller alternative to expensive PLC systems. The SafeGuard comes standard with a centralized, easy-to-read LCD providing simultaneous status on 16 channel inputs as well as several expansion options including Mimic Display capabilities and HMI software packages. The SafeGuard can be equipped for any application, indoors or out, with your choice of a basic wallmount, a weather-proof fiberglass enclosure or rack panel mounting. 8-channel Display Mode and Boards Allow for Economical Configuration for Smaller Systems Dual Modbus® RS-485 Serial Ports for Simultaneous Master/Slave Operation Alarm Zoning Feature Available - Monitor Specific Zones at the Same Time or Entire Areas Relay Acknowledge Feature Allows Silencing of External Audible Devices During Alarm Graphic LCD Readout Displays Monitored Data as Trends, Bar Graphs and Engineering units The SafeGuard Controller is easy to configure and user friendly Measurement ranges in engineering units, adjustable alarm set-points, dual serial interfaces and many other features combine to allow the SafeGuard to satisfy the needs of many demanding applications. It is widely used for centralizing the display and alarm processing functions in critical fl ame and gas detection applications. An RS-485 Modbus® slave port allows up to 128 SafeGuard's to be multidropped onto a single data highway for interrogation by another Modbus master. SafeGuard's may also be cascaded by connecting one unit's master port to another's slave port. SafeGuard Alarm Controller in Enclosure Standard A SPDT Common Alarm Relays for HORN, HIGH, WARN and FAULT. Optional Discrete Channel Alarm Relays Also Available Alarm Event Printer Interface Cal Mode Offers Push button Zero/Span Calibration Authorization Mode Allows Locking of Critical Configuration Variables Magnetic Keypad Available for Nonintrusive Operation in Potentially Hazardous Locations NEMA 4X Enclosure Wallmounts, Basic Wallmount and Rackmount Options Available SafeGuard options such as discrete alarm relays per channel or 4–20 mA I/O are added by connecting appropriate 8 channel boards (2 required for more than 8 channels) to the economical I2 C expansion bus. Familiar "telephone style" cables and connectors interface to this bus. Versatile, expandable, and a wide range of system configuration options – satisfying the most demanding user applications.
Open the catalog to page 1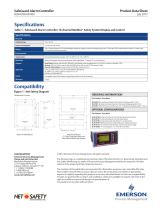 SafeGuard Alarm Controller Product Data Sheet Specifications Table 1 - SafeGuard Alarm Controller 16-channel Modbus® Safety System Display and Control Specifications Electrical Voltage Range Power Consumption 128 x 240 pixel graphic LCD with backlight display bar graphs, trends and engineering units. 52 discrete LED's indicate alarm status for 3 alarms per 16-channels and common relays. Environmental Temperature Operating temperature range: -25 °C to +60 °C (-13 °F to +140 °F) NEMA 4X fiberglass Enclosure wallmount, Basic wallmount, Serial Ports: Master and Slave RS-485 half or full duplex...
Open the catalog to page 2
All Emerson Automation Solutions - ROSEMOUNT catalogs and technical brochures

Archived catalogs

Compare up to 10 products