Catalogs

>

Rosemount OCA 51 Overfill Alarm Cabinet
Catalog excerpts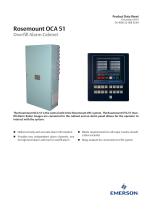 Product Data Sheet December 2016 DS 4000-22-008 Ed 04 Rosemount OCA 51Overfill Alarm Cabinet The Rosemount OCA 51 is the central unit in the Rosemount OFC system. The Rosemount OTG 51 Overfill Alarm Radar Gauges are connected to the cabinet and an alarm panel allows for the operator to interact with the system. ■ Delivers timely and accurate alarm information ■ Provides two independent alarm channels, one for high level alarm and one for overfill alarm ■ Meets requirements for all major marine classification societies ■ Relay outputs for connection to ESD system
Open the catalog to page 1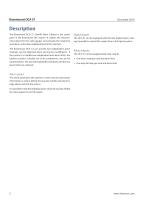 Description The Rosemount OCA 51 Overfill Alarm Cabinet is the center piece in the Rosemount OFC system. It collects the measurement data from the radar gauges and activates the respective level alarms when the predefined level limit is reached. The Rosemount OCA 51 can provide two independent alarm channels, one for high level alarm and one for overfill alarm. If the system is to handle two independent level alarm limits, the cabinet contains a double set of all components, one set for each level limit. This way full independence between the the two alarm limits are achieved. Digital...
Open the catalog to page 2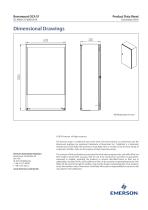 Product Data Sheet Dimensional Drawings ©2016 Emerson. All rights reserved. The Emerson logo is a trademark and service mark of Emerson Electric Co. Rosemount and the Rosemount logotype are registered trademarks of Rosemount Inc. TankRadar is a trademark of Rosemount Tank Radar AB. Rosemount Tank Radar AB is a member of the Emerson family of companies. All other marks are the property of their respective owners. Emerson Automation Solutions Rosemount Tank Radar AB Box 150 SE-435 23 Mölnlycke T +46 31 337 00 00 F +46 31 25 30 22 www.Emerson.com/marine The contents of this publication are...
Open the catalog to page 4
All Emerson Automation Solutions - ROSEMOUNT catalogs and technical brochures

Archived catalogs

Compare up to 10 products