Catalogs

>

PTV-01 Performance Target Verification Kit
Catalog excerpts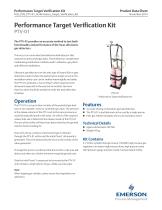 Performance Target Verification Kit Product Data Sheet Performance Target Verification Kit PTV-01 The PTV-01 provides an accurate method to test both functionality and performance of the Incus ultrasonic gas detectors. The Incus is an omni-directional airborne leak detector that responds to pressurised gas leaks. These detectors complement traditional gas detection methods used in refineries, gas plants and offshore installations. Ultrasonic gas detectors are the only type of hazard (fire or gas) detection product where the performance target set out in the installation safety case can be verified meaningfully and safely. The PTV-01 generates a "burst release" which represents the ultrasound expected in the event of an incident. No more than four tests should be needed to verify the total detection envelope. PTV-01 Performance Target Verification Kit Operation The PTV-01 is set up in direct vicinity of the potential gas leak source, for example, next to a vunerable gas value. The pressure in the release volume of the PTV is set to the same pressure as would be typically found in the value. An orifice of the required release hole size is fitted into the release nozzle of the PTV-01. The size of the orifice will have been determined by the gas leak size the client is looking for. Once all is set up a volume of pressurized gas is released through the PTV-01 orifice and the initial "burst" ultrasound is generated .This is be detected by the Incus in the vicinity of the value generated. Through this test it is confirmed that the UGLD's in the area will detect and alarm at or below minimum required gas leak rate. Only the inital "burst" is measured as by necessity the PTV-01 only contains a small volume of gas, unlike a process pipe. Note: When shipping gas cylinders, please ensure local regulations are adhered to. Features Accurate testing of ultrasonic gas leak detectors The PTV-01 is portable and can be used by a single person Inert gas release simulates worse case hazardous event Technical Details Approx dimensions 530 (W) Weight 45 kg Kit Contains 2 x 10 litre cylinder Nitrogen Gas at 150 BAR; high pressure gas regulator; two meter high pressure hose; high pressure valve with pressure gauge and test nozzle; transportation trolley.
Open the catalog to page 1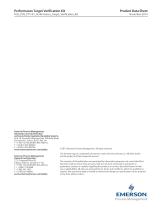 Performance Target Verification Kit Product Data Sheet November 2014 Emerson Process Management Ultrasonic Gas Leak Detection and Gas & Smoke Aspirated Sampling Systems Unit 18, Somerford Business Park, Wilverley Road, Christchurch, Dorset, BH23 3RU, UK T +1 855-724-2638 (855 RAI-AND-U) T + 44 (0) 1202 400630 F + 44 (0) 1202 496796 ©2014 Emerson Process Management. All rights reserved. www.emersonprocess.com/safety Emerson Process Management Flame & Gas Detection 2721 Hopewell Place NE Calgary, Alberta, Canada T1Y 7J7 T +1 855-724-2638 (855 RAI-AND-U) T + 1 (403) 219 0688 T +1 866 347 3427...
Open the catalog to page 2
All Emerson Automation Solutions - ROSEMOUNT catalogs and technical brochures

Archived catalogs

Compare up to 10 products