Catalogs

>

Process Gas Chromatographs Offer Lower Total Cost of Ownership
Catalog excerpts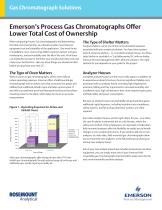 Emerson's Process Gas Chromatographs Offer Lower Total Cost of Ownership When comparing Process Gas chromatographs and determining the total cost of ownership, you should consider more than just equipment cost and suitability of the application. One must factor in installation costs, reoccurring utilities expenses (power and gas), maintenance, and serviceability over the life of the unit. All of these can drastically increase or minimize your actual production costs and impact your bottom line. Here are a few things you should consider before you purchase your next GC: The Type of Shelter Matters The Type of Oven Matters Analyzer Houses When it comes to gas chromatographs, airless ovens help to reduce operating expenses. Emerson offers a fieldmounted gas chromatograph with an airless oven that consumes less power and utilities than traditional airbath ovens and takes up less space. It also offers an explosion-proof and flameproof enclosure that allows mounting closer to the plant, which helps to ensure an accurate measurement. Complete analyzer houses are the most costly option. In addition to an expensive enclosed structure, there are significant hidden costs associated with an analyzer house, including high shipping fees, extensive cabling and tray requirements, increased assembly and installation costs, high maintenance fees, more required spare parts, and high utility and power consumption. Figure 1 - Operating Expenses for Airless and Airbath Ovens Analyzer shelters can be one of the most substantial expenses associated with your analytical solution. You have three options when it comes to shelters – 1) a complete analyzer house, 2) a threesided shelter or sunshield, or 3) a fieldmounted GC with no shelter. Emerson Process Management offers all three solutions. The right solution for you depends on your goals for the project. Because an analyzer house can potentially entrap hazardous gases, additional capital expenses, including hazardous area compliance, safety systems, and fire and gas detection systems, are often required. Savings Comparison Even when analyzer houses are the right choice for you – as is often the case for plants in extremely hot or cold climates, where the safety and comfort of the employees is an important consideration, field-mounted analyzers offer the flexibility to enable you to handle changes in your analytical structure. If you need to add one or two analyzers at a later date, field-mounted gas chromatographs allow you to mount the new analyzers in the field without purchasing an entirely new analyzer house. Airless gas chromatographs offer savings of more than 70 % over airbath gas chromatographs through reduced usage of carrier gas and calibration gas, and by requiring no utility air. Even if your new analytical purchase includes temperature-sensitive equipment, you can simply move one of your Emerson fieldmountable gas chromatographs into the field to make room for the new, environmentally sensitive analyzer.
Open the catalog to page 1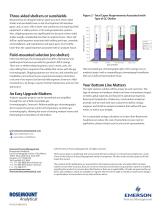 Because they are designed with an open structure, three-sided shelter and sunshields have no risk of entrapment of hazardous gases, and, as such, offer a lower cost solution by not requiring HVAC equipment, a safety system, or fire and gas detection systems. Also, shipping expenses are significantly less because a three-sided shelter weighs considerably less than an analyzer house. There will still be capital expenses associated with cabling and trays, assembly and installation, and maintenance and spare parts, but it will be lower than the capital expenses associated with an analyzer...
Open the catalog to page 2
All Emerson Automation Solutions - ROSEMOUNT catalogs and technical brochures

Archived catalogs

Compare up to 10 products