Catalogs

>

Millennium RM2 - 2-Channel Rack Mount Controller
Catalog excerpts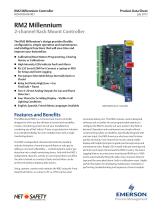 Product Data Sheet 2-channel Rack Mount Controller The RM2 Millennium's design provides flexible configuration, simple operation and maintenance, and intelligent functions that will save time and improve your bottomline. Calibration/Reset Button Programming, Clearing Alarms or Calibrations High Intensity LEDs Indicate Fault and Alarm RS-232 Serial COM Port Connect a Laptop or PDA for Setup and Event Logging Five Jumper Selectable Relays Normally Open or Closed Relay Set Points High/Low = Gas Fire/Fault = Flame Two 4–20 mA Analog Outputs for Gas and Flame Detectors Four Character Scrolling Display – Visible in all Lighting Conditions English, Spanish, French Menu Languages Available Features and Benefits The Millennium RM2 is a 2-channel rack mount controller designed to off er you the ultimate in control and versatility. Create a monitoring system to suit your installation by combining any of Net Safety's fl ame or gas detection solutions to a centralized display to cover multiple zones with a single monitoring device. The RM2's independent channels eliminate the standard industry limitation of monitoring only flame or only gas by adding a new level of flexibility — combining flame and/or gas detection into a single monitoring device. And with the RM2's independent channels, activity on one channel does not affect the other channel so a variety of tasks and activities can be performed without initiating false alarms. Setup, operate, monitor and maintain the RM2 using the Front Panel Push button, or connect a PC or a PDA via the serial communications port. The RM2 contains custom designed software and a number of user programmable options to configure the RM2 to exactly suit your needs in the field on demand. Operation and maintenance are simple without compromising safety or reliability. Specifically designed with end user input, the RM2 shows you what you need to know quickly and easily. Each channel has its own clearly visible display with helpful prompts to guide you through setup and maintenance tasks. Bright LEDs visually indicate warnings and alerts for each input channel and the RM2 circuitry. The Event Logging feature securely stores in protected RAM up to 1000 events automatically listing the date, time, channel, detector type and the associated alarm, fault or calibration event. Highly useful information for developing maintenance schedules or performing troubleshooting and sequence of events analysis.
Open the catalog to page 1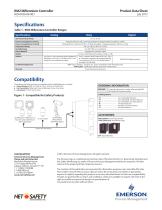 Product Data Sheet Specifications Table 1 - RM2 Millennium Controller Ranges Specifications Operating Voltage Range Power Consumption (at 24 V dc) Nominal 150 mA (1.8 W / 3.0 W ) de-energized / energized maximum 290 mA / 3.48 W Nominal 80 mA / 130 mA (1.92 W / 3.12 W) de-energized / energized maximum 160 mA / 3.84 W -40 °C to +80 °C (-40 °F to +176 °F) Temperature Range Humidity Range Chassis Material 16 gauge steel / powder coated 2.1 Kg / 4.5 lb (Stainless Steel option 3.4 Kg / 7.5 lb) Weight 4 to 20 mA - Into a maximum loop impedance of 800 Ohms at 32 V dc or 150 Ohms at 10.5 V dc....
Open the catalog to page 2
All Emerson Automation Solutions - ROSEMOUNT catalogs and technical brochures

Archived catalogs

Compare up to 10 products