Catalogs

>

220-10-020 Series Digital Pressure and Temperature Transmitter
Catalog excerpts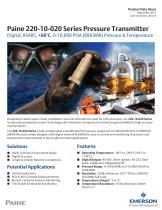 Product Data Sheet September 2015 220-10-020-DS REV-H Designed to reduce space, lower installation costs and eliminate the need for A/D conversion, our 220-10-020 Series incorporates proprietary sensor technology with innovative microprocessor-based programmability for high accuracy measurements. The 220-10-020 Series is fully compensated and calibrated for pressure ranges from 0-100 (6 BAR) to 0-10,000 PSIA (689 BAR) and provides designers with digital network flexibility for easy to control and monitoring of pressure and temperature measurements in the toughest remote applications! ■ Harsh / Extreme Environment Ready. ■ ■ Digital Accuracy. ■ Longer & Simpler Network Connections. ■ Potential Applications ■ ■ ROV & AUV Controls & Measurements. ■ Remote / Extreme Pressure Monitoring. ■ ■ Test Stands & Industrial Automation. ■ Operating Temperature: -40°F to +260°F (-40°C to + 126°C). Digital Output: RS-485. Other options, RS-232, Modbus®, CANbus®,CANopen® & sPi. Pressure Range: 0-100 (6 BAR) to 0-10,000 PSIA (0 to 1034 BAR). Resolution: 16 Bits Minimum. 0.077 PSI for 5,000 PSI (344 BAR) Full Scale. Temperature Output: °F or °C. Temperature Resolution: 16 Bits Minimum, Better Than 0.1°F.
Open the catalog to page 1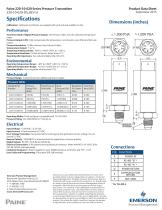 Paine 220-10-020 Series Pressure Transmitter 220-10-020-DS REV-H Product Data Sheet Specifications Calibration: Calibration Certificates are supplied with each unit and available on-line. Dimensions (inches) Performance Total Error Band of Digital Pressure Output: See Pressure Table, over the calibrated temperature < 1,000 PSIA > 1,000 PSIA range. Pressure Output in PSI: Fully compensated for temperature, non-linearity, zero offset and full scale output. Pressure Resolution: 16 Bits minimum (see Pressure Table). Temperature Output: °F or °C. Temperature Measurement: -40°F to +260°F...
Open the catalog to page 2
All Emerson Automation Solutions - ROSEMOUNT catalogs and technical brochures

Archived catalogs

Compare up to 10 products