Catalogs

>

EIDE

>

ENP
Catalog excerpts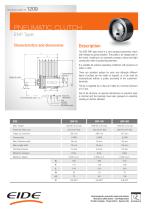 ENP TypeCharacteristics and dimensions The EIDE ENP type clutch is a very compact pneumatic clutch with release by spring reaction. The pulley is an integral part of the clutch, resulting in an extremely compact, robust and light construction with no projecting elements. It is suitable for adverse operating conditions with presence of water or dust. There are standard pulleys for each size although different types of pulleys can be made on request, or it can even be manufactured without a pulley, according to the customers' demands. The air is supplied by a rotary air intake at a nominal pressure of 5.5 bar. Due to its structure, no special maintenance is required; wear is minimal and the bearings have been greased on assembly needing no further attention.
Open the catalog to page 1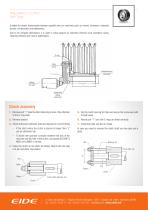 PNEUMATIC CLUTCH ENP Type Suitable for power transmission between parallel axes on machines such as mixers, conveyors, hydraulic pumps, compressors and depressors. Due to its compact dimensions it is used in small spaces as industrial vehicles such sweepers, tanks, cleaning vehicles and marine applications. Allen screw Supplementary separator Fixing disk group (opcional) Clutch assembly 1. Remove part "1" take the Allen fastening screws. (Pay attention to the O-ring seal) 5. Set the clutch placing the flap and secure the screw axis with thread locker. 6. Mount part "1" sure the O-rings are...
Open the catalog to page 2
All EIDE catalogs and technical brochures

Compare up to 10 products