Catalogs

>

Eaton

>

Product Launch
Catalog excerpts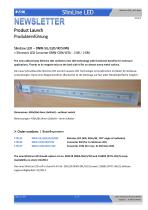 Product Launch Produkteinführung SlimLine LED – DNW-SIL/LED/IR/S/MG + Electronic LED Converter DNW-CON/LED/... (5W / 15W) The new cabinet lamp SlimLine LED combines new LED technology with functional benefits for enclosure applications. Thanks to its magnet strip on the back side it fits on almost every metal surface. Die neue Schrankleuchte SlimLine LED vereint neueste LED Technologie mit praktischen Vorteilen für Gehäuse‐ anwendungen. Dank eines Magnetstreifens (Rückseite) ist die Montage auf fast jeder Metalloberfläche möglich.  Order numbers | Bestellnummern 170125 170126 170127
Open the catalog to page 1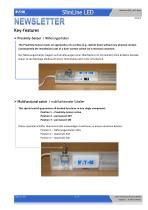 Key-features  Proximity-Sensor | Näherungsschalter The Proximity‐Sensor reacts on approaches of a surface (e.g. cabinet door) without any physical contact. Consequently the installation (use) of a door‐contact switch isn't necessary anymore. Der Näherungsschalter reagiert auf Annäherungen einer Oberfläche (z.B. Schranktür) ohne direkten Kontakt. Daher ist die Montage (Gebrauch) eines Türkontakts nicht mehr erforderlich.  Multifunctional switch | multifunktionaler Schalter This special switch guarantees all needed functions in one single component: ...
Open the catalog to page 2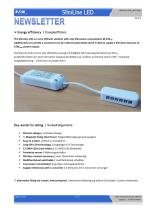  Energy efficiency | Energieeffizienz The SlimLine LED is a very efficient solution with only 4W power consumption @ 24VDC. Additionally we provide a converter (can be ordered separately) which is able to supply 3 SlimLines because of 15Wmax. power output. Die SlimLine LED ist eine sehr effiziente Lösung mit lediglich 4W Leistungsaufnahme bei 24VDC. Zusätzlich bieten wir einen Konverter (separat bestellbar) an, welcher auf Grund seiner 15W ‐ maximale Ausgangsleistung ‐ 3 SlimLines versorgen kann. Key-words for selling | Verkaufsargumente     ...
Open the catalog to page 3
All Eaton catalogs and technical brochures

Archived catalogs

Compare up to 10 products