Catalogs

>

DSTI Sell Sheet - Marine Propulsion
Catalog excerpts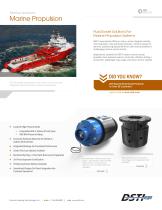 Marine Solutions Marine Propulsion Fluid Swivel Solutions For Marine Propulsion Systems DSTI's specialized offshore rotary unions integrate directly into propulsion units providing hydraulic / electric power for dynamic positioning adjustments for safe maneuverability in challenging marine environments. Applications suitable for DSTI's rotary unions include propeller drive systems used in work boat, offshore drilling / production, passenger, tug, cargo, and other marine vessels. DID YOU KNOW? DSTI provides specialized fluid rotary unions that are integrated into propulsion systems worldwide. DSTI Exports Fluid Swivel Products To Over 50 Countries? Learn more at www.dsti.com + Long Life High Pressure Seals + Compatible With a Variety of Fluid Types + 500 BAR Pressure Rating + Corrosion Resistant Materials For Offshore / Subsea Environments Integrated Bearings For Consistent Performance Center Thru-bore Options Available Electrical Slip Ring / Fiber Optic Rotary Joint Integration 3rd Party Inspection Certification Positioning Sensor Options Available Specialized Designs For Direct Integration Into Customer Equipment Dynamic Sealing Technologies, Inc. | main +1 763-404-8000 | Pictured above: electrical slip ring for power / data transfer, shaft-mounted rotary sensor to monitor thrust direction, and (3) independent fluid passages. Pictured above: 10" thru-bore for mounting and (4) independent fluid passages.
Open the catalog to page 1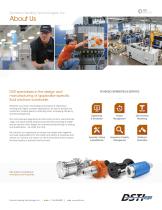 Dynamic Sealing Technologies, Inc DSTI specializes in the design and manufacturing of application-specific fluid solutions worldwide. Between our proven technology and long-term experience working with highly complex applications, we aim to achieve our customers' project goals by reducing costs, increasing efficiency, and decreasing risks. Our core business segments are fluid rotary unions, electrical slip rings, and value-added products and services providing a singlesource solution from design and manufacturing through to testing and qualification - all under one roof. We conduct our...
Open the catalog to page 2
All DSTI - Dynamic Sealing Technologies catalogs and technical brochures

Archived catalogs

Compare up to 10 products