Catalogs

>

Dividella Qualification Services
Catalog excerpts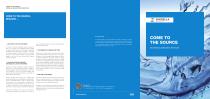 COME TO THE SOURCE DIVIDELLA QUALIFICATION SERVICES COME TO THE SOURCE, BECAUSE … Our goal is to make the qualication process a sucess for each of our cutomers. Your qualication project manager will begin with the project at an early stage, to help guide the project through the planning, preparation, and nally, the execution phases. We strive to provide our customers with the tools and support necessary to get their system qualied in as short a time as possible with the optimal resource expenditure. … OUR QUALIFICATION PACKAGES ARE MODULAR, LIKE OUR MACHINES. Dividella has standard qualication packages available to help meet your machine qualication needs. In addition to standard packages, additional supplementary documentation is available to "round out" a particular package. Risk Analysis and Design Review Workshops are examples of these supplementary materials. However, Dividella can also assist you in analyzing your special requirements and then developing a customized offering that is individually tailored to meet your specic needs. For example, if you are attempting to implement the ASTM E 2500 standard, Dividella can partner with you to develop a verification plan and testing strategy that matches your company's particular implementation approach. Support from Dividella is more than just documentation. Our qualication specialists can support you at our site or yours with expert assistance to meet your needs during the execution phases as well. COME TO THE SOURCE Dividella Qualification Services … YOUR NEEDS MAY CHANGE OVER TIME. Dividella can, of course, support our customers with a wide range of additional options and retrots for our machines – to assist you as your packaging needs change. In addition to machine modications, we can also provide the support necessary to advise in re-qualifying the new and or modied functionality. Your qualication project manager will assist you to develop a qualication strategy for the machine retrot. We can support the project with an updated Risk Analysis, Design Documents and Testing Documents. A detailed description of the modications is also provided to summarize all the necessary information for use in your internal change control process. … RISK MUST BE MANAGED. Risk and risk assessment are critical issues in today's regulatory and business environment. It is imperative from both a quality and business perspective that (project) risks are assessed correctly and mitigated appropriately. Dividella has the knowledge and expertise to assist our customers during the risk assessment process and the technical know how to come up with cost effective solutions to mitigate those risks. As market leader for innovative pharma packaging solutions, we allow no compromises in the quality of our products and our customer service. With our engineering and packaging development expertise, we contribute to our customers' success. We act in partnership and we are personally responsible for the results of our work.
Open the catalog to page 1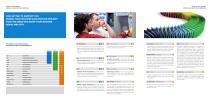 COME TO THE SOURCE DIVIDELLA QUALIFICATION SERVICES COME TO THE SOURCE DIVIDELLA QUALIFICATION SERVICES WHO BETTER TO SUPPORT YOU DURING YOUR MACHINE QUALIFICATION PROJECT THAN THE ONES WHO KNOW YOUR MACHINE INSIDE AND OUT? SELECTABLE QUALIFICATION MODULES – CUSTOMIZED TO MEET YOUR REQUIREMENTS Document describes project scope, project organization, participant roles and responsibilities. Also includes a description of Dividella Quality Management System, schedule, document delivery process and change management process. Testing documents for use as FAT testing at Dividella site. For test...
Open the catalog to page 2
All Dividella catalogs and technical brochures

Compare up to 10 products