Catalogs

>

Multifunctional Highspeed Modules (TRION3 series modules)
Catalog excerpts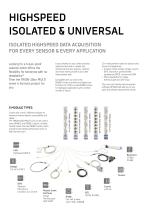 HIGHSPEED ISOLATED & UNIVERSAL ISOLATED HIGHSPEED DATA ACQUISITION FOR EVERY SENSOR & EVERY APPLICATION Looking for a future-proof solution which offers the flexibility for tomorrow with no drawbacks? Then the TRION-18xx-MULTI series is the best product for you. It can primarily be used, where precision, speed and dynamic is needed, like mechanical structure analysis, vibration and shock testing as well as any other measurement task. 10+ measurement modes for almost every sensor and application: >> 9 native modes: bridge, voltage, current, IEPE, resistance, potentiometer, temperature (RTD),...
Open the catalog to page 2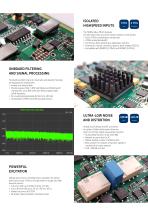 ISOLATED HIGHSPEED INPUTS The TRION-18xx-MULTI modules are 10x faster than any other similar modules on the market. >> Up to 5 MS/s simultaneous sample rate >> 2 MHz analog bandwidth >> Continuous data streaming to application and disk >> Channel to channel, channel to ground, both isolated (350 V) >> Compatible with DEWE2 (2 MS/s) and DEWE3 (5 MS/s) ONBOARD FILTERING AND SIGNAL PROCESSING To provide excellent signal to noise ratio and aliasing free data, we equipped the module with: >> Analog anti-aliasing filter >> Precise lowpass filter in DSP with Bessel and Butterworth characteristic...
Open the catalog to page 3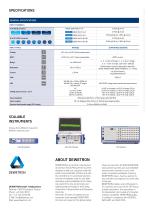 GENERAL SPECIFICATIONS INPUT CHANNELS 4 ch DSUB connector CH1 Analog/CAN 8 ch 0B LEMO connector CH1 Analog CAN INPUT TYPES SUPPORTED SENSORS IEPE® sensors Voltage input accuracy ≤10 V Input impedance Input coupling 4 to 20 mA sensors; loop powered sensors MSI-BR-CH-x: 500 to 50000 pC MSI-BR-TH-x: various TC ranges MSI-BR-LVDT LVDT, RVDT, charge output and thermocouple sensors ±0.02 % of reading, ±0.02 % of range ±20 μV ±0.02 % of reading, ± 0.02 % of range ±20 μV ±0.1 % of reading, ± 0.02 % of range ±20 μV ±0.5 % of reading, ± 0.02 % of range ±20 μV Differential (100 MΩ or 1 MΩ), Single...
Open the catalog to page 4
All DEWETRON GmbH catalogs and technical brochures

Archived catalogs

Compare up to 10 products