Catalogs

>

D Series Hydrostatic level probes DSGE-25 and DSGE-16
Catalog excerpts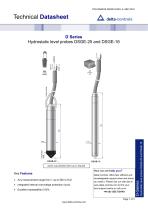 Technical Datasheet D Series Hydrostatic level probes DSGE-25 and DSGE-16 plastic cup (stainless steel cup on request)  Any measurement range from 1 up to 500 m H2O.  Integrated internal overvoltage protection circuit.  Excellent repeatability 0.05% Delta Controls' offers fast, efficient and knowledgeable support when and where you need it. Please visit our web site at www.delta-controls.com to find your local support centre or call us on: +44 (0) 1252 729140 Page 1 of 3 Hydrostatic level probes DSGE-25 and DSGE-16
Open the catalog to page 1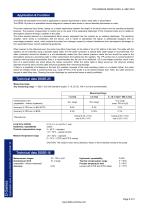 The DSGE-25 hydrostatic level probe is applicable to measure liquid levels in tanks, deep wells or piezometers. The DSGE-16 probe is a specialized device designed to measure water levels in narrow diameter piezometers or wells. The probe measures liquid levels, basing on a simple relationship between the height of the liquid column and the resulting hydrostatic pressure. The pressure measurement is carried out on the level of the separating diaphragm of the immersed probe and is related to atmospheric pressure through a capillary in the cable. The active sensing element is a piezoresistant...
Open the catalog to page 2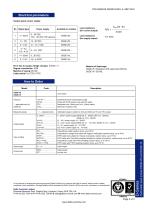 Electrical parameters Output signal, power supply: Power supply Load resistance (for supply output) Load resistance (for current output) Error due to supply voltage changes 0,005% / V Degree of protection IP68 Material of casing SS316L Cable shield PU, ETFE, PTFE Material of diaphragm DSGE-25 Hastelloy C276 (optionally SS316L) DSGE-16 SS316L Description Level probe Extended thermal compensation range Probe with Pt100 sensor (only with PU cable) Response time <30ms (only for 4...20mA output) Membrane material: 316L Measuring range /…÷…(required units) Calibrated range in relation to 4mA and...
Open the catalog to page 3
All Delta Mobrey Limited catalogs and technical brochures

Compare up to 10 products