Catalogs

>

Must flotation
Catalog excerpts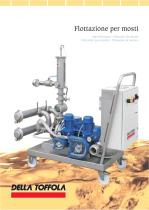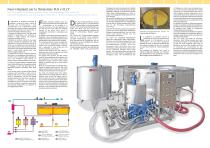 Nuovi Impianti per la flottazione FLN e FLCV New FLN and FLCV flotation systems - Neue Flotationsanlagen FLN und FLCV Nouvelles installations pour la flottation FLN et FLCV - Nuevos sistemas de flotación FLN y FLCV l trattamento di flottazione permette la chiarifica in continuo di mosti e succhi da inviare alla fermentazione o alla concentrazione. Con la separazione rapida delle fecce dal mosto si ottiene la esaltazione del contenuto aromatico del futuro vino, in quanto fermentato in assoluta purezza. I vantaggi del flottatore sono, oltre alla citata velocità di separazione, una riduzione...
Open the catalog to page 2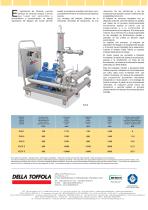 l tratamiento de flotación permite clarificar en continua mostos y zumos que luego son sometidos a fermentación o concentración. La rápida separación del bagazo del mosto permite exaltar el contenido aromático del futuro vino, pues éste fermenta en condiciones de absoluta pureza. Las ventajas del flotador, además de la antedicha velocidad de separación, es una reducción de los polifenoles y de las sustancias que pueden causar condiciones de inestabilidad en el vino. El flotador en continua, equipado con un depósito redondo, permite separar los sólidos por medio de un proceso económicamente...
Open the catalog to page 3
All DELLA TOFFOLA GROUP catalogs and technical brochures

Compare up to 10 products