Catalogs

>

ET S600 self-adhesive labeling machine
Catalog excerpts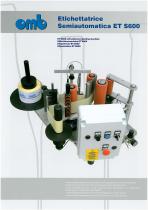 ET S600 self-adhesive labeling machine Etikettiermaschine ET S600 Etiqueteuse ET S600 Etiquetadora ET S600 La tecnologia ricercata unisce la semplicita di regolazione a un rendimento elevato. Research and technology combine simple adjustment with high output. Diese Etikettiermaschine vereint fortschrittliche Technologie mit einfachster Einsteitung und hoher Leistungsfahigkeit. La technologie avancee a Hie simplicite de reglage etrendement eleve. La tecnologia avanzada reune sencillez de ajuste y rendimiento elevado.
Open the catalog to page 1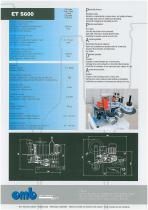 Etichetta Main Label Etikett Etiquette Etiqueta 0 esterno bobina etichetta Label roll external 0 AuBendurchmesser der Etikettenrolle 0 Exterieur rouleau etiquettes 0 Exterior rollo etiqueta Etichetta dicorpo Etichetta e controetichetta su stesso rotolo, per bottiglia cilindrica Centraggio della contra su bottiglia gia etichettata. Possibilita collegamento stampante per lotto. possible applications: 0 interno bobina etichette Label roll inner 0 Innendurchmesser der Etikettenrolle0 0 Interieur rouleau etiquettes 0 interior rollo etiqueta Altezza etichetta su bobina Label height on web roll...
Open the catalog to page 2
All DELLA TOFFOLA GROUP catalogs and technical brochures

Compare up to 10 products