Catalogs

>

ET 2 Champagne self-adhesive labeling machine
Catalog excerpts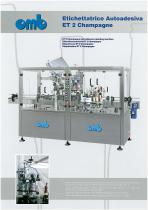 Etichettatrice Autoadesiva ET 2 Champagne La tecnologia ricercata unis ce la semplicita di regolazione a un rendimento elevato. Research and technology combine simple adjustment with high output. Diese Etikettiermaschine vereint fortschrittliche Technologie mit einfachster Einstellung und hoher Leistungsfahigkeit. La technologie avancee allle simplicite de reglage et rendement eleve. La tecnologia avanzada reune sencillez de ajusteyrendimiento elevado.
Open the catalog to page 1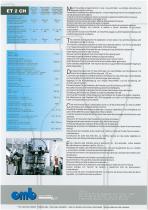 Etichetta Retro Etichetta CollarinoDOCG Main Label Back Label Docg Neck label .Etikett Rucketikett Docg Halsring Etiquette Contre etiquettet Collerette DOCG Etiqueta Etiqueta reverso Collarfn DOCG 0 esterno bobina etichetta Label web roll outer 0 AuBcndurchmesser cier Etikettenrolle 250 mm 200 mm 200 mm 0 Exterieur rouleau etiquettes max max max 0 Exterior rollo etiqueta 0 interno bobina etichette Label roll inner 0 Innendurchmesser der Etikettenrolle 70 - 75 mm 70 - 75 mm 70 - 75 mm 0 Interieur rouleau etiquettes max max max 0 interior rollo etiqueta Macchina adatta all'applicazione di una...
Open the catalog to page 2
All DELLA TOFFOLA GROUP catalogs and technical brochures

Compare up to 10 products